Saturday, October 3, 2009
NORTHEASTERN PICKS UP 4-1 WIN OVER UNION
Lindsay Berman posts three-point game for Huskies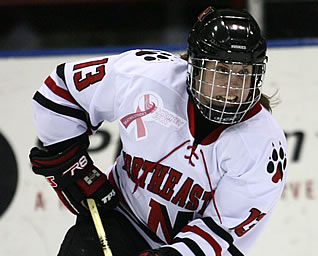 Lindsay Berman had two goals and an assist for NU
The Northeastern Huskies opened the regular season with a 4-1 victory over Union at Matthews Arena on Saturday. Senior Lindsay Berman scored two goals and added an assist, and freshman Rachel Llanes scored her first collegiate goal. Sophomore netminder Florence Schelling turned aside 23 shots for the Huskies, who outshot Union by a 39-24 margin.
Northeastern started quick out of the gates and nearly took the lead in the first minute when freshman Siena Falino's backhander struck the right post. Union keeper Alana Marcinko then had to make a big save on Kristi Kehoe in tight before the six minute mark.
The Huskies finally broke the deadlock on their first power play opportunity of the game. With junior Elsa Perushek in the box for holding, Berman found an open Alyssa Wohlfeiler, who buried a one-timer from the low slot for the Huskies' first goal of the season.
Berman added to the advantage at the 13:48 mark of the second period, tucking home a loose puck after senior Katy Applin's drive from the point was knocked down in front by Kehoe.
Llanes put the Huskies up 3-0 when her wrap-around from behind the net banked off the pad of Marcinko and into the cage. Wohlfeiler and freshman Brittany Esposito picked up assists on the play; the assist was Esposito's first collegiate point.
Union pulled one back 2:15 into the third, when freshman Emma Rambo squeezed a wrister through Schelling's pads from the low slot.
Schelling then made two key saves to preserve the lead for Northeastern. The Swiss phenom robbed Rambo's bid for a second on a breakaway, getting her glove on a rising shot from in close. Minutes later, Schelling stopped Rhianna Kurio's blast from the the left point with a glove save.
With 2:04 remaining in the contest, the Dutchwomen pulled Marcinko for the extra attacker. Berman promptly intercepted a defensive-zone pass along the boards and deposited it into the empty net for the Huskies' fourth goal.
Northeastern returns to action on Sunday against Connecticut at Matthews Arena at 2 p.m.