Saturday, February 6, 2010
TWO THIRD-PERIOD GOALS PROPEL PROVIDENCE PAST NORTHEASTERN, 2-1
Freshman forward Nicole Anderson scores game-winner at 17:19 of third period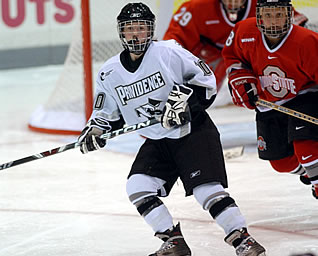 Ashley Cottrell scored a goal for the Friars
The No. 7 Northeastern Huskies lost a tough one on Saturday afternoon at the hands of No. 10 Providence, 2-1 at Matthews Arena. Senior Lindsay Berman gave the Huskies an early lead, but two third-period goals from Providence spoiled Northeastern's bid to extend its unbeaten streak to eight games.
With the loss, the Huskies fall to 16-6-5 (8-5-4-3 Hockey East) and drop into a tie for second in the Hockey East standings with Connecticut at 23 points. The Friars jump into the league's top spot with 24 points and improve to 13-9-8 overall and 9-4-4-2 in conference.
Junior goaltender Leah Sulyma fought off 30 pucks in goal for Northeastern and made several key stops to keep the Huskies in the game from start to finish. Her counterpart, Genevieve Lacasse, stopped 32 of 33 shots for Providence, including 15 of 16 in the first period.
The only shot that got by Lacasse was a rebound put-back by Berman at 5:46 of the opening period. On a power play, senior tri-captain Katy Applin spotted junior Alyssa Wohlfeiler open at the left point. Wohlfeiler fired a shot through traffic that ricocheted off the left pad of Lacasse and onto the stick of Berman in the low right slot for the easy tap in.
The lead held until midway through the third period, thanks largely to the play of Sulyma who faced 13 shots in each of the final two frames. The junior made two acrobatic stops on Providence's Kate Bacon in the second period, first denying a bid on the short side and then another attempt on a quick wrap around at the opposite post. Sulyma then fended off a 2-on-0 breakaway later in the period, poke checking the puck off the stick of Bacon, before stoning Arianna Rigano on the rebound.
Providence finally did break through at the 10:54 mark of the final period when Ashley Cottrell weaved through the Husky defense and squeezed a shot through the pads of Sulyma. Only three minutes later, Cottrell nearly had another on a two-player advantage but her rebound attempt was miraculously kicked out by Sulyma, who slid across the crease to make a highlight-reel save.
With just under three minutes remaining, the Friars capitalized off a turnover to take the lead for good. The Huskies had control of the puck in the Friars' zone, but an errant pass back to the blueline set up Nicole Anderson on a breakaway, on which she made no mistake.
The Huskies return to action on Tuesday at No. 6 Harvard in the championship game of the 32nd Women's Beanpot at the Bright Center at 8 p.m. Peter Pan will sponsor a free shuttle service to Northeastern students, departing from Chicken Lou's at 6:30 p.m.