NEW HAMPSHIRE SKATES PAST NIAGARA, 6-1
Micaela Long registers four points for Wildcats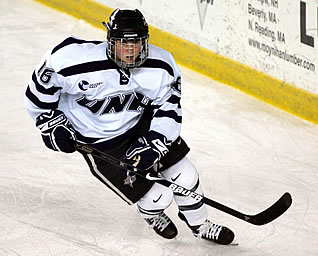 Micaela Long had two goals and two assists for UNH
DURHAM, N.H. - Senior Micaela Long (South Boston, Mass.) notched two goals and two assists to lead five Wildcats with multi-point games as the third-ranked University of New Hampshire women's ice hockey team to skated to a 6-1 win against Niagara University at the Whittemore Center on Sunday afternoon.
UNH extended its unbeaten streak vs. the Purple Eagles to 16 games (15-0-1) and is now 5-0-1 this season. Niagara is 1-3-2.
Niagara drew first blood as Natasha Fryer potted an even-strength goal at 16:15 of the opening stanza. The Wildcats took advantage of a five-on-three opportunity in the final minute of the first period as Long scored her first of two on the day off the rebound of a Kristine Horn (Utica, Mich.) shot at 19:18. Kelly Paton (Woodstock, Ontario) was also credited with an assist on the tally; she matched her career high of three assists. The trio would team up just 34 seconds later as Horn potted a power- play goal, the eventual game-winner, at 19:52 with helpers from Paton and Long. UNH went into the break with a 2-1 advantage and held a 7-4 advantage in shots.
The 'Cats doubled their lead and took control of momentum with a pair of even-strength tallies in the second. In a period in which New Hampshire outshot Niagara, 16-5, it was Kristina Lavoie (Fonthill, Ontario) scoring her first collegiate goal at 7:33. Long and Kelly Cahill (Farmington Hills, Mich.) set up the freshman and were credited with assists. Just under two minutes later, Long netted her second of the day as she stole the puck from a Niagara player near center ice and completed the unassisted goal by slipping the puck past Purple Eagle netminder Jenni Bauer.
New Hampshire completed its six unanswered goals with a pair of power-play tallies in the third period. The first of those tallies came at 5:21 as Lavoie scored her second of the afternoon and second of her young career with an assist from Brittany Skudder (Plainview N.Y.). Cahill closed out scoring for the Wildcats with a power play tally at 7:31 from Horn and Paton.
Kayley Herman (Weyburn, Saskatchewan) improved to 3-0-0 this season with a 17-save effort. Bauer finished with 25 saves, including 14 in the second stanza.
Long matched her single-game highs in both goals and points.
The Wildcats finished 4-for-5 on the power play and 5 of 5 on the penalty kill.
UNH returns to action on Friday, Oct. 23 (7 p.m.) at fourth-ranked Clarkson University. New Hampshire's next home game is Sat. Oct. 31 (5 p.m.) against Hockey East foe UConn. Tickets for all women's hockey home games are available at www.unhwildcats.com or by calling the Whittemore Center box office.