NORTHEASTERN SWEEPS WEEKEND AT NIAGARA WITH 6-2 WIN
Annie Hogan and Casey Pickett each score twice for Huskies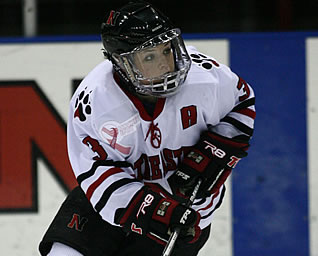 Annie Hogan had two goals for the Huskies
Ten different Huskies recorded points as No. 7 Northeastern (16-5-3) rolled over Niagara, 6-2 at Dwyer Arena on Sunday afternoon. Freshman Casey Pickett and senior Annie Hogan paced the offensive attack with two goals apiece as the Huskies extended their unbeaten streak to five straight games. Sophomore Florence Schelling made 21 saves to earn her eleventh victory of the season.
With the victory, the Huskies improve to 9-1-2 on the road and 8-1-0 against non-conference foes this season.
Northeastern jumped on Niagara early and never looked back. Junior Kristi Kehoe netted her eleventh of the year just 54 seconds after the opening faceoff. Hogan followed suit at the 9:00 mark off a feed from freshman Brittany Esposito, before Pickett lit the lamp on the power play at 10:52 to make it 3-0. Senior Ginny Berg and freshman Siena Falino were credited with the assists on the goal, Pickett's second-career power-play marker.
Niagara pulled a goal back exactly two minutes later as Jenna Hendrikx potted her team-leading eleventh of the season to make it 3-1.
The lead held midway into the second period when again the Husky offense caught fire. Senior Lindsay Berman extended the lead back to three with her first goal since Oct. 23 (her fifth of the year) at 10:21 off a pass from Kehoe. Berman's tally increased her point total to 15 on the year, tying her season total from 2008-09. The Odenton, Md. native is two points shy of tying her career season-high of 17 points set during the 2007-08 campaign. Kehoe (23 points) is also two points away from equaling her point total from each of her first two seasons on Huntington Avenue. With her two-point afternoon, Kehoe continued her dominance of the Purple Eagles; in six career games vs. Niagara, Kehoe has five goals and six assists.
Niagara again proceeded to cut into the deficit as Frances McPhail made it 4-2 at 13:18, but Pickett's second of the day 3:07 later effectively put the game out of reach. Hogan added another insurance goal with 4:33 left in the third period off a feed from sophomore Stephanie Gavronsky to round out the scoring.
The Huskies outshot Niagara, 27-23. Jenni Bauer turned aside 21 pucks for the Purple Eagles before giving way to Jill Zelonis after the Huskies' sixth goal.
Northeastern became the first team to sweep a two-game series against the Purple Eagles this season. Niagara had previously avoided sweeps against then-No. 3 New Hampshire (tie and a loss in October) and No. 1 Mercyhurst (tie and a loss in November).
Northeastern returns to action on Tuesday, Jan. 26 vs. Boston University at Matthews Arena at 7 p.m. Four of the Huskies next six games will be against the Terriers, including the opening round of the Beanpot on Feb. 2.