Saturday, January 23, 2010
NORTHEASTERN PICKS UP 2-1 WIN AT NIAGARA
Katy Applin scores game-winning goal for Huskies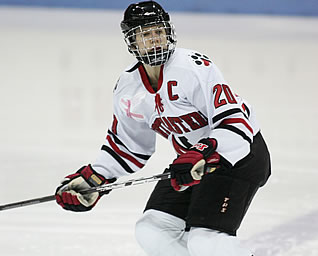 Katy Applin picked up the game-winner for NU
Senior Katy Applin's third-period power-play goal lifted the No. 7 Northeastern Huskies (15-5-3) to a gritty 2-1 victory over Niagara at Dwyer Arena Saturday night. Junior goaltender Leah Sulyma stopped 28 shots and improved to 5-0-0 on the season. Northeastern is now 5-1-1 in 2010 and 7-1-0 against non-conference opponents this season.
After a scoreless first period, the Purple Eagles went ahead at the 7:40 mark of the second period when Jennifer MacLean slammed home her seventh of the season. Northeastern answered back 27 seconds later as freshman Rachel Llanes built upon her shootout goal at UNH with her fourth of the year at 8:07. Senior Annie Hogan drew the lone assist, her eighth point in the last six games.
With the score tied at 1-1 midway through the final period, the Purple Eagles were assessed a body checking penalty that proved to be the turning point in the match. Applin, who led all players with seven shots on goal, took a Kristi Kehoe pass and fired it past Niagara goaltender Jenni Bauer for the go-ahead tally.
Sulyma and the resilient Husky defense took over from there.
In a penalty-riddled third period, Niagara fired 12 shots on the Northeastern net, but the Huskies' junior goaltender held the fort. Bauer stopped 23 shots for the Purple Eagles, falling to 8-9-4 on the year.
The Huskies are back in action on Sunday as they conclude their four-game road trip with a rematch with Niagara at 2 p.m.