Saturday, December 12, 2009
CURRIER, MAINE SHUT OUT UNION, 4-0
Candice Currier posts shutout with 21 saves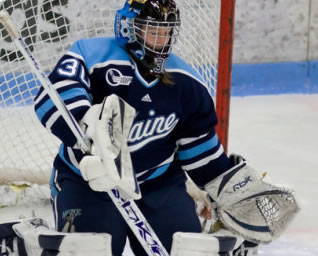 Candice Currier made 21 saves for the Black Bears
SCHENECTADY, N.Y. -- Jenna Ouellette's (Winnipeg, Manitoba) pair of goals led the University of Maine women's ice hockey team to a 4-0 victory over the Union Dutchwomen on Saturday afternoon. The win improves the Black Bears to 6-10-5 on the season while Union drops to 3-14-1.
After a scoreless first period, the Black Bears would get on the scoreboard first when Barton lit the lamp with 4:30 remaining in the second period, notching her third goal on the season. The goal was set up by some slick passing by Myriam Croussette (Baie-Comeau, Quebec) and Jessica Bond (Namur, Quebec).
Maine would extend its lead to 2-0 as Ouellette reached double figures in goals this season, notching her tenth goal while Maine skated on the power-play 3:39 into the third period. Dominique Goutsis (Coquitlam, British Columbia) assisted on the play for the Black Bears. With just over a minute and a half remaining in the third period, the Black Bears would go up by three goals as Melissa Gagnon (St. Gilles, Quebec) sent a pass to Amy Stech (Duluth, Minn.) who slid a pass over to Goutsis. Goutsis would then slap the puck into the back of the net for her second point of the day.
Ouellette would put the game out of reach when she notched an empty net goal for the Black Bears with 17 seconds remaining in the contest. The goal would eventually give the Black Bears the 4-0 decision in game two of the weekend series with the Dutchwomen.
Candice Currier (Goffstown, N.H.) was solid in net for the Black Bears, picking up her second shutout victory of the season while making 21 saves and moving her record to 2-5-2. Kate Gallagher would take the loss for the Dutchwomen after making 24 saves and will see her record drop to 2-4-0.
The Black Bears out shot Union 28-21 on the day while going 1-5 on the power play. Maine was able to kill off all four Dutchwomen power plays.
The Black Bears will return to action after the Holiday break when they host the University of Moncton Blue Eagles at Alfond Arena on Jan. 2-3 with both games slated to begin at 2 p.m.