MAINE DEFEATED BY ROBERT MORRIS, 3-1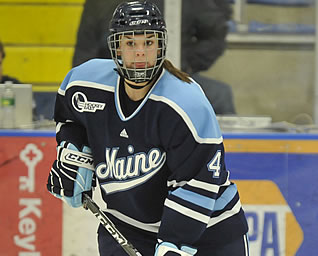 Ashley Norum scored a power-play goal for Maine
ORONO, Maine - The Black Bears dropped a 3-0 decision to Robert Morris Friday evening at Alfond Arena. Maine takes the loss and drops to 2-5-1 on the season while Robert Morris improves to 2-5-0. Ashley Norum (Fairbanks, Alaska) led the Black Bears with her first goal of the season, 16:20 into the third period.
Robert Morris got on the board first when Jennifer Kindret shot from the point and the puck got through a screen in front of Maine goalie Candice Currier (Goffstown, N.H.) and found the back of the net.
Currier made several high quality saves in the first half, including a gem when Robert Morris had a point blank shot but she was able to go down and make a beautiful pad save. She finished with 13 saves in the period.
In the second stanza, Robert Morris was able to capitalize on a couple early shots to take a three-goal lead, but the Black Bears fought back and had a flurry of chances towards the end of the period and were unlucky to not put one in.
Jacki Gibson found Brianna Delaney who was able to get the puck by Currier to put the Colonials up 2-0 while the Black Bears were down a skater. Robert Morris got their third goal 7:47 into the second period when Jamie Joslin sent a pass to Sara O'Malley who scored her fifth goal of the season.
In the third period, Maine came out firing, and Currier made another point-blank save to keep the Black Bears within striking distance.
Jenna Ouellette (Winnipeg, Manitoba) gave the Black Bears a great opporunity to score when she made a nifty spin-around move and fired a shot, but Robert Morris goalie Daneca Butterfield made a pad save. Moments later, Myriam Croussette (Bale-Comeau, Quebec) nearly brought the Black Bears within two, but her laser ringed off the post.
The Black Bears got on the board with 3:40 left when Jordan Colliton (Blackie, Alberta) threw a pass to Ouellette who dished a pass back out to Norum who deposited the puck into the back of the net. However, it was too little too late as the Black Bears took the loss, 3-1.
Currier finished the game with 29 saves and Butterfield stopped 18 attempts for the Colonials.
The Black Bears return to the ice tomorrow afternoon at 2 p.m. right here in Alfond Arena when they face Robert Morris in game two of the weekend series. Tomorrow is also Maine's "Skating Stride's Against Breast Cancer" game in which the Black Bears will be wearing pink jerseys to help build awareness of Breast Cancer. The Black Bears will be auctioning off their special jerseys at tomorrow's game as well as on GoBlackBears.com until the end of next week. Maine will also be on hand following the game for a team autograph session.