MAINE PICKS UP SHOOTOUT WIN AGAINST PROVIDENCE
Teams skate to 2-2 tie; Black Bears take shootout, 2-1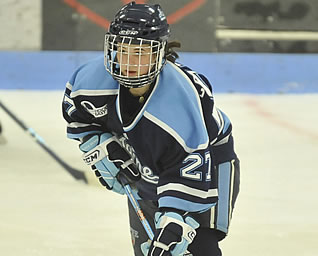 Myriam Croussette's goal decided the shootout
ORONO, Maine -- The University of Maine women's ice hockey team skated to a 2-2 tie with Providence College on Friday night at Alfond Arena. The Black Bears took the shootout 2-1. Maine moves to 2-7-2 on the season and 0-3-2-1 in Hockey East play, while Providence sees its record go to 3-4-4 overall and 2-1-2-1 in conference play.
Maine took a 1-0 lead at 16:41 of the first period when Amy Stech (Duluth, Minn.) scored on a shot from just inside the blueline. The puck took an awkward bounce and went between Providence goalie Genevieve Lacasse and the right goal post. Providence turned over the puck and Dominique Goutsis (Coquitlam, British Columbia) was able to gain control of it and feed Stech to begin the play.
Providence tied up the game at 1-1 at 19:47 of the first period when Alyse Ruff beat Maine goalie Brittany Ott (St. Clair Shores, Mich.) for her second goal of the season. Ashley Cottrell and Arianna Rigano each assisted on the goal. The Friars took a 2-1 lead at 5:14 of the second period. From behind the net, Providence's Jean O'Neill threw the puck to the crease. Nicole Anderson was able to get a stick on it and beat Ott for her third goal of the season. Ashley Cottrell also assisted on the goal.
Maine tied the game at 2-2 at 16:10 of the second period. Myriam Croussette (Baie-Comeau, Quebec) found Jenna Ouellette (Winnipeg, Manitoba) in the right faceoff circle. Ouellette roofed a puck over the glove of Friar goalie Lacasse. For Ouellette, it was her third goal of the season.
The game remained tied at 2-2 through regulation and a five minute overtime period. The game then went to a shootout. Maine's Lexie Hoffmeyer (Grand Blac, Mich.) began the shootout with a goal. Maine goalie Brittany Ott then made a pair of saves, before Jessica Cohen scored to tie the shootout at 1-1 with three round. The two teams then went to sudden death in the shootout when Maine's Myriam Croussette scored a goal. Ott then saved a shot by Providence's Alyse Ruff, giving the Black Bears the extra point.
Maine goalie Brittany Ott was outstanding, making 41 saves in goal. She moves to 1-3-1 on the season. Lacasse made 26 saves in goal for the Friars. She moves to 3-4-4.
The Black Bears return to action on Sunday, Nov. 8 when they host UConn at 12 noon. Providence returns to action on Sunday as well when it plays host to Northeastern at 2 pm.