Saturday, November 28, 2009
MAINE TIES NORTH DAKOTA, 3-3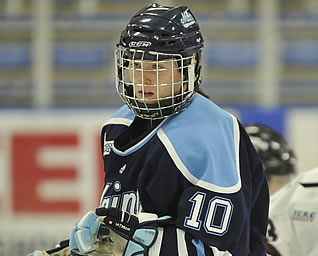 Jordan Colliton had a goal for Maine
GRAND FORKS, N.D.--The University of Maine women's ice hockey team recorded its third straight tie when it skated to a 3-3 draw at North Dakota on Saturday afternoon. Maine moves to 3-9-5 on the season with the tie, while North Dakota moves to 3-6-3.
After a scoreless first period, Maine jumped out to a 3-0 lead with three second period goals. Jenna Ouellette (Winnipeg, Manitoba) put the Black Bears on the board when she scored her sixth goal of the season at 11:15. Lexie Hoffmeyer (Grand Blanc, Mich.) and Jennie Gallo (Castlegar, British Columbia) each assisted on the goal for Maine. Jordan Colliton (Blackie, Alberta) put Maine ahead 2-0 at 14:59 of the second with her third goal of the season. Gallo and Jessica Bond (Namur, Quebec) each assisted on the goal. The Black Bears extended their lead to 3-0 when Dawn Sullivan (Enfield, Nova Scotia) scored her first goal of the season at 16:41. Hoffmeyer and Taryn Peacock (Calgary, Alberta) both picked up assists on the goal.
North Dakota scored three third period goals. Jordan Slavin put the Fighting Sioux on the board at 10:01 when she scored an unassisted goal. Mary Loken and Megan Gilbert teamed up to find Alyssa Wiebe at 14:39 to pull North Dakota to within one goal. Loken tied the game with a goal at 18:42 from Wiebe and Kelly Lewis.
The two teams skated through a five minute overtime period with neither team being able to score. Maine won the shootout 1-0 in three rounds.
Maine goalie Brittany Ott (St. Clair Shores, Mich.) made 24 saves in the game. She moves to 2-4-3 on the season. Jorid Dagfinrun stopped 20 shots in 40 minutes of play for North Dakota. Brittany Kirkham played the third period and overtime and stopped six shots. Kirkham picks up the tie and moves to 0-0-1.
Maine held a slim 29-27 edge in shots on goal in the game. The Black Bears were 1-for-5 on the power play, while North Dakota finished 0-for-2.
The Black Bears return to action on Friday, Dec. 4 when they host Vermont for a 2 pm game at Alfond Arena.