MAINE DEFEATED BY MINNESOTA STATE, 5-2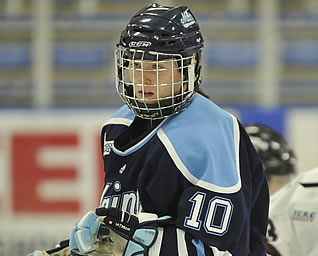 Jordan Colliton had a pair of assists for Maine
ORONO, Maine - The University of Maine women's ice hockey team dropped a tough decision to Minnesota State-Mankato, 5-2 on Friday evening at Alfond Arena. The loss drops the Black Bears to 2-3-0 while the Mavericks pick up their first win of the season and move to 1-0-0. Maine was led on offense by senior Jenna Ouellette (Winnipeg, Manitoba) who had one goal and one assist for the Black Bears.
The Mavericks jumped out to a 1-0 lead on their first goal of the season from Ashley Young after she received a feed across the rink from freshman Lauren Smith. The Black Bears and Mavericks would enter the first intermission with Minnesota State holding a 1-0 advantage.
Just 39 seconds into the second period the Black Bears would take advantage of a Maverick carry over penalty when they got their sixth power play goal of the season from senior Taryn Peacock (Calgary, Alberta). The goal was scored on a nice series of passing from Jordan Colliton (Blackie, Alberta) and Ouellette who picked up her team leading eighth assist on the season.
Minnesota State would go up 3-1 after picking up the next two goals of the game. Lauren Smith scored her first career goal when she stole the puck at the Black Bears blue-line and sent a bouncing wrist shot just over goalkeeper Brittany Ott's (St. Clair Shores, Mich.) right pad for the shorthanded goal. Holly Snyder then picked up the third goal for the Mavericks 1:28 into the third period off a swing of the puck into the middle by Emmi Leinonen and Ariel Mackley.
Maine would battle back to cut the lead to one after Ouellete notched her second goal of the season and the Black Bears second goal on the power play of the night. Colliton fed the puck to Lexie Hoffmeyer (Grand Blanc, Mich.) who fired a shot on net that was blocked as Ouellette cleaned up the rebound to bring the score to 3-2.
The Mavericks would get two power play goals from Lisa Edman to put the game out of reach with the final score of 5-2.
Black Bear freshman Ott was solid in net for the Black Bears, recording 36 saves but dropping her record to 1-2 on the season. Maverick goalkeeper Alli Altmann made 29 saves and picks up her first victory of the season to move to 1-0.
The Black Bears finish up the series against Minnesota State tomorrow afternoon in Alfond Arena. The puck is scheduled to drop at 2 p.m.