MAINE ROLLS PAST MONCTON, 6-3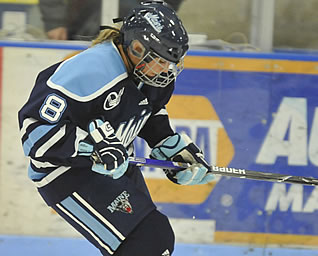 Jenna Ouellette scored two goals and an assist for the Black Bears
Orono, Me. - Jenna Ouellette (Winnipeg, Manitoba) scored two goals and added an assist to lead the University of Maine women's ice hockey team past the University of Moncton 6-3 in an exhibition on Sunday afternoon at Alfond Arena in Orono, Maine. Taryn Peacock (Calgary, Alberta) chipped in with three assists for the Black Bears.
The University of Moncton took an early 1-0 lead when Genevieve David beat Maine goalie Brittany Ott (St. Clair Shores, Mich.) with a shot from the blue line. Maine tied the game when Ouellette beat Kathy Desjardins with a shot from the just outside the right goal post at 14:25. Peacock and Dawn Sullivan (Enfield, Nova Scotia) assisted on the goal.
Ouellette gave Maine a 2-1 lead just 58 seconds into the second period. Peacock added her second assist on the goal for Maine which was scored on a shot from the slot.
Moncton tied the game when Marieve Provost blocked a shot and then skated in on a breakaway, beating Ott at 3:12 of the second period. Maine was able to take the lead again when Myriam Croussette (Baie-Comeau, Quebec) received a pass from Chole Tinkler (Wabush, Newfoundland) and skated through the slot, beating Desjardins with a top shelf wrist shot.
Maine took a 4-2 lead when Ott and Dominique Goutsis (Coquitlam, British Columbia) teamed up to find Amy Stech (Duluth, Minn.) skating down the left side of the ice. Stech was able to beat Desjardins.
Provost scored her second goal of the game at 16:00 of the second period with Valerie Boisclair and Kristine Labrie each assisting on the goal. The Black Bears took the 4-3 lead into the second intermission.
Dawn Sullivan added to Maine's lead when she scored just 1:45 into the third period from the slot on assists from Ouellette and Peacock. Maine capped the scoring when Brittany Dougherty (Chesterfield, Mich.) tipped a Goutsis shot past Desjardins at 3:34.
Maine held a commanding 50-16 edge in shots on goal in the game. Ott made 12 saves in 55:28 for the Black Bears, while Kylie Smith (Apple Valley, Minn.) made one save in 4:32. Desjardins made 44 saves between the pipes for the Blue Eagles.
The Black Bears return to action on Saturday, January 15 when they host Northeastern. Puck drop is scheduled for 7 PM.