Saturday, September 26, 2009
PROVIDENCE COLLEGE FALLS TO MCGILL, 7-4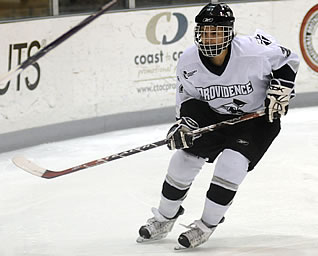 Laura Veharanta scored two goals for the Friars
PROVIDENCE, R.I. - The Providence College Women's Hockey team dropped its only exibition game of the season by the score of 7-4 to McGill University.
The Friars saw second period goals from Alyse Ruff (Tualatin, Ore.), Laura Veharanta (La Verne, Calif.) and Jean O'Neill (Strafford, Pa.). The second period ended with Providence up, 3-1. McGill answered back to start the third with five-straight unanswered goals to take the lead for good, 6-3. Veharanta would net her second goal of the night with 5:29 to go in the third, but it wouldn't be enough as McGill added an empty-net goal to close out the game.
Providence will open the regular season next weekend against Hockey East opponet University of Maine for a two game series. The first game is Friday, October 2 at 7:00 p.m. and the second is on Saturday, October 3 at 4:00 p.m.