Sunday, September 27, 2009
NORTHEASTERN TOPPED BY MCGILL, 3-1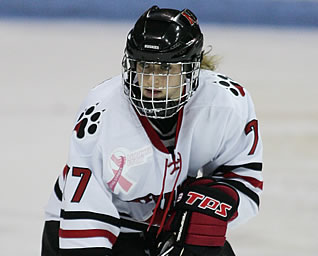 Lori Antflick scored the lone Husky goal
The Northeastern Huskies dropped a hard-fought decision to the McGill Martlets, 3-1 in an exhibition contest Sunday at Matthews Arena. Junior Lori Antflick scored the lone Husky goal, and sophomore Florence Schelling turned aside 27 shots in net.
Antflick put the Huskies on top with 2:33 remaining in the first period. Off a turnover, Antflick snapped a wrister from the high slot past McGill keeper Andrea Weckman and into the top right corner of the net.
McGill answered quickly in the second frame as Sophie-Ann Bettez beat Schelling just 3:27 into the period. Vanessa Davidson and Rebecca Martindale drew assists on the goal.
The Martlets capitalized on a power play at the end of the second period to take the lead for good. Lainie Smith found Cathy Chartrand in front of the net, who beat a sprawling Schelling with just over two minutes remaining in the frame.
Husky freshman Casey Pickett nearly evened the score on a late breakaway, but her backhander struck the left post and stayed out.
Trailing by a goal with two and a half minutes remaining in the third, the Huskies elected to pull their goaltender for an extra attacker. Just seconds later, Chartrand jumped on a loose puck at center ice and fired it down the rink into the empty cage for a 3-1 McGill lead.
Pickett nearly pulled one back in the final minute, but the iron robbed her attempt again on a two-on-one break.
After the game, the teams participated in a friendly shootout. Schelling stopped four of McGill's five attempts, letting only Bettez's backhand tickle the twine. Antflick and freshmen Brittany Esposito and Casie Fields scored for NU.
Northeastern returns to action on Saturday when they open regular season play against Union at Matthews Arena at 2 p.m.