Tuesday, February 9, 2010
NORTHEASTERN EDGED BY HARVARD IN WOMEN'S BEANPOT FINAL, 1-0
Junior goaltender Leah Sulyma posts 43 saves for Huskies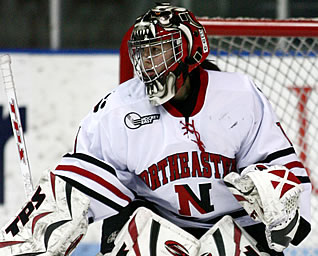 Junior Leah Sulyma made 43 saves for the Huskies
CAMBRIDGE, Mass. - The No. 8/9 Northeastern Huskies fell short in their bid for a 15th Beanpot title on Tuesday, 1-0, at the hands of No. 5 Harvard in the Beanpot final at the Bright Center. Junior goaltender Leah Sulyma made 43 saves to keep Northeastern in the game, but in the end, Liza Ryabkina's second-period goal proved to be the difference.
The Crimson prevailed in the Beanpot final for the ninth time in the last 12 years and for the 13th time overall. Ryabkina, who scored five goals in the tournament, was named Beanpot MVP, while Harvard goaltender Laura Bellamy took home the Bertagna Award for the Beanpot's top goaltender. Bellamy stopped all 42 shots she faced in her first two career Beanpot games.
Sulyma (5-2-1) was the hero of the game for Northeastern as her play in net kept the team in the game, despite a lopsided shot advantage (44-27) in favor of Harvard. The junior goaltender faced a season-high 26 shots in the second period, stopping all but Ryabkina's shot from in close, which barely squeezed through the five-hole and across the goal line.
Northeastern had several chances to equalize in the third period, but Bellamy stood tall in goal. Freshman Brittany Esposito drove hard down the middle of the ice on a breakaway early in the frame, getting off a tricky backhander as she was hauled down to the ice, but Bellamy stood tall. Minutes later, the Huskies again threatened to tie on a 4-on-3 power-play, but Bellamy stopped all five shots on the man-advantage to preserve the scoreline.
The Huskies found success driving hard to the net and produced one final frenzy in front of the Harvard goal in the waning minutes. With the puck hidden in traffic and bodies falling to the ice around Bellamy, the freshman netminder maintained her composure to keep the disc out of harm's way. Bellamy stopped 16 shots in the final frame overall to improve to 7-2-1 on the season.
Four different Huskies produced four shots on goal in the game, including sophomore Stephanie Gavronsky who produced two rockets from the point on Northeastern's final power play of the game.
Following a seven-game unbeaten streak, the Huskies (16-7-5) have now dropped two consecutive games for just the second time this season. Northeastern will look to rebound this weekend with a home-and-home series against Boston University Feb. 13-14.
Boston University tied Boston College, 1-1, earlier in the day in the Beanpot consolation game.