Saturday, September 26, 2009
UNH SKATES TO 13-0 EXHIBITION VICTORY VS. DURHAM JR. LIGHTNING
Julie Allen and Brittany Skudder each post four-point games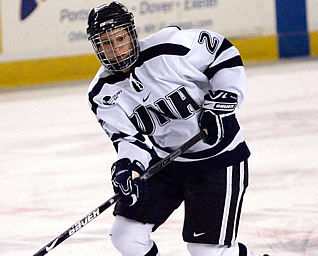 Julie Allen had two goas and two assists for UNH
DURHAM, N.H. - The line combination of Julie Allen (Brampton, Ontario), Brittany Skudder (Plainview, N.Y.) and Kristina Lavoie (Fonthill, Ontario) compiled a total of 11 points to propel the University of New Hampshire women's ice hockey team to Saturday evening's 13-0 victory against the Durham Jr. Lightning in an exhibition game at the Whittemore Center.
UNH, picked as the favorite in the Hockey East Preseason Coaches Poll that was released earlier this week, generated a 59-5 shot advantage and went 5-for 6 on the power play. The Lightning, an AA Intermediate team in the Provincial Women's Hockey League, also had six power-play opportunities.
Allen, a junior, netted power-play goals at 4:01 and 15:22 of the second period and also had a pair of assists. Lavoie, a freshman, gave the Wildcats a 2-0 lead with tallies at 1:33 and 6:24 of the first period and was also credited with one assist. Skudder, a redshirt freshman, matched Allen's four points with four assists.
Overall, 11 'Cats had a multiple-point game and three others had one point. Seniors Micaela Long (South Boston, Mass.; goal, two assists) and Kelly Paton (Woodstock, Ontario; three assists) both finished with three points. Senior Shannon Sisk (Pipersville, Pa.) scored two goals, whereas classmate Kelly Cahill (Farmington Hills, Mich.) and freshmen Kristine Horn (Utica, Mich.) and Katie Kleinendorst (North Andover, Mass.) each tallied a goal and an assist. Junior Courtney Birchard (Mississauga, Ontario) and freshmen Katie Brock (Marblehead, Mass.) were credited with two assists.
Newcomers Molly Morrison (South Burlington, Vt.) - a junior transfer from the University of Vermont - and Bryanna Farris (Carleton Place, Ontario) and Kailey Chappell (Pickering, Ontario) each scored a goal.
UNH starting goalie Lindsey Minton (Richardson, Texas) exited the game when the team took an 8-0 lead at 10:06 of the second stanza; she was credited with two saves. Kayley Herman (Weyburn, Saskatchewan) played the final 29:54 of the game and stopped three shots.
Lightning starting goalie Chantal Bicket made 25 saves, including 21 in the first period, and surrendered eight goals in 30:06. Victoria Powers allowed five goals and turned aside 21 shots in 29:54 of relief action.
Lavoie opened the game with an even-strength goal and she scored again with a 5-on-3 power-play tally. Kleinendorst netted a power-play goal 72 seconds later (at 7:36) to extend the advantage to 3-0, and Chappell struck at 12:37 to give the 'Cats a 4-0 lead heading into the first intermission.
New Hampshire potted seven goals in the second period. Morrison opened the second-period barrage at 1:35, then Allen scored pushed the lead to 6-0 with a power-play goal at 4:01. Sisk (at 8:15), Farris (10:06) and Cahill (11:33) potted even-strength goals in a span of 3:18 to give the 'Cats a 9-0 advantage. Allen (15:22) and Long (19:13) scored power-play goals to push the differential to 11 goals.
Sisk, on a delayed penalty call, scored an extra-attacker goal at 7:31 of the final frame and Horn closed the scoring with 1:54 remaining in the game.
The Lightning's best scoring opportunity occurred midway through the third period, when Candace Robbescheuten led a 2-on-1 rush down the right wing. Her slap shot from the circle was turned aside by Herman.
UNH officially opens the season Oct. 3 at home against Hockey East rival UConn. Game time at the Whittemore Center is 2 p.m. The Wildcats also play host to Quinnipiac University on Oct. 4 (2 p.m.).
Tickets for all women's ice hockey home games are available at the Whittemore Center Box Office, online at www.unhwildcats.com, or by calling Ticketmaster at 1-800-745-3000. Season tickets are available by calling 603-862-4000, ext. 5.