Saturday, September 26, 2009
NORTHEASTERN POSTS 2-1 WIN OVER DAWSON COLLEGE
Lindsay Berman and Danielle Kerr score for Huskies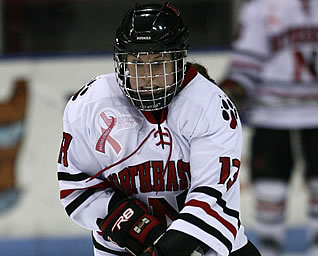 Lindsay Berman scored a goal for the Huskies
BOSTON, Mass. - The Northeastern Huskies edged the Dawson College Blues by a 2-1 count Saturday afternoon at Matthews Arena. Senior Lindsay Berman and freshman Danielle Kerr scored for the Huskies, who outshot Dawson by a 44-17 margin.
Sophomore Florence Schelling played the first two periods in net for the Huskies, while senior Sydney Arbelbide saw action in the third.
Northeastern took advantage of a power play in the first period, when Lindsay Berman's shot beat Dawson keeper Melanie Fournier from the point to give NU a 1-0 lead at the 11 minute mark. Juniors Kristi Kehoe and Alyssa Wohlfeiler earned assists on the goal.
The Huskies doubled their advantage 2:35 into the second period. Taking a pass from sophomore Stephanie Gavronsky, Kerr raced in alone on goal and made a spectacular deke around Fournier for the 2-0 advantage.
With freshman Brittany Esposito already in the box, the Huskies bench was assessed a penalty to start the third, putting Dawson on a two-man advantage to begin the frame. On the five on three, sophomore Sonia St-Martin ripped a shot past Arbelbide just 27 seconds into the period to cut the deficit in half.
The Huskies produced several quality scoring chances in the third, but could not solve Dawson backup goalie Joanie Plamondon. The sophomore keeper robbed Kerr on the doorstep to preserve the 2-1 scoreline, and stopped all 16 shots she faced in the third.
The Huskies went 1-10 with the man-advantage, while Dawson's power play was 1-8.
Following the game, the teams participated in a friendly shootout. Schelling stood tall for the Huskies, stopping all five shots, while Wohlfeiler and Kehoe scored for Northeastern.
Northeastern returns to action tomorrow against McGill University at Matthews Arena at 2 p.m.