Saturday, November 28, 2009
VERMONT RALLY FALLS SHORT AGAINST DARTMOUTH, 4-3
Celeste Doucet and Chelsea Furlani each post goal and assist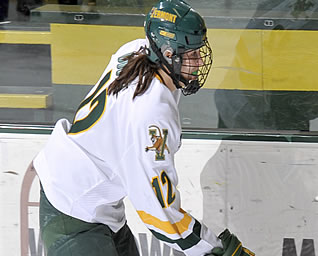 Celeste Doucet had a goal and an assist for the Catamounts
BURLINGTON, Vt. - Dartmouth College scored four times in the first period to defeat the University of Vermont 4-3 in women's hockey action at Gutterson Fieldhouse on Saturday evening.
Sarah Parsons put the Big Green on the scoreboard less than four minutes into the game when she rifled a shot to the inside post past Kristen Olychuck (Kelowna, British Columbia). However, the Catamounts were able to answer just three minutes later when senior co-captain Chelsea Furlani (Colchester, Vt.) rebounded a Kailey Nash (Middletown, R.I.) shot for her third goal of the season.
Dartmouth then scored twice within 21 seconds to extend the lead to 3-1. Parsons recorded her second goal of the game when she fired a shot from the right circle past Olychuck. Amanda Trunzo then recorded her seventh goal of the season when she rebounded a Sasha Nanji shot.
Jenna Cunningham added the fourth goal of the first period for the Big Green.
Erin Barley-Maloney (Raleigh, N.C.) cut the Dartmouth lead to 4-2 in the second period with her first goal of the season. She rebounded freshman Erin Wente's (Scottsdale, Ariz.) shot past Dartmouth's Whitney Woodcox. The assist was Wente's first career as a Catamount.
The Catamounts continued to pressure Dartmouth in the third period and drew a two-man power play. UVM head coach Tim Bothwell pulled Olychuck to give the Catamounts a three-man advantage on the faceoff and it worked as Celeste Doucet (Memramcook, New Brunswick) scored to cut the lead to 4-3 with 1:19 remaining in the game. As Vermont kept its pressure up Woodcox proved to be up to the task turning away three shots after Doucet's goal.
Dartmouth moves to 5-4-1 and 4-4-1 in ECAC Hockey while Vermont drops to 5-8-1 overall and 1-5-1 in Hockey East.