LACASSE BACKSTOPS FRIARS TO 3-0 SHUTOUT OF CORNELL
Genevieve Lacasse makse 29 saves for third shutout of season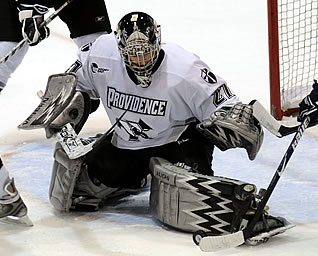 Genevieve Lacasse made 29 saves for the Friars
PROVIDENCE, R.I. - Providence College women's hockey finished the weekend with a pair of victories over No. 8 Cornell (8-7-2, 7-1-2 ECAC) as the Friars won at Schneider Arena on Sunday, 3-0. Providence (8-7-8, 4-3-4-2 WHEA) sophomore Ashley Cottrell put home the game winner and classmate Genevieve Lacasse (Scarborough, Ontario) made 29 saves to record her third shutout of the season.
Cottrell opened the scoring at 15:56 when she put home a loose puck at the left post following a rebound from a Laura Veharanta (La Verne, Calif.) shot from the left face-off circle. The goal was Cottrell's 11th of the season while Veharanta earned her eighth assist. Freshman Nicole Anderson (Jordan, Minn.) earned her third assist of the season on the play as well.
The Big Red held the advantage in shots, 14-9, going into the locker room.
The two teams battled in the neutral zone for the first few minutes of the second period before junior Jean O'Neill (Strafford, Pa.) lifted a shot just under the crossbar from the low slot at 6:30. Sophomore Lauren Covell (Akron, Ohio) registered her sixth assist of the season on the play.
Junior Amber Yung (Rockville, Va.) made it 3-0 at 18:32 when she fired home her third goal of the year with an assist going to Jessica Cohen (Anchorage, Alaska). The assist was Cohen's ninth on the year.
With two wins this weekend, Providence now owns a 4-5-3 record against ranked opponents.
Providence will face arch rival No. 4 New Hampshire in a home-and-home series starting Saturday, January 16 at 2:00 p.m. in Durham, N.H. PC will then host UNH in Schneider Arena on Sunday at 2:00 p.m.