CONNECTICUT NOTCHES 4-1 WIN AT VERMONT
Monique Weber posts goal and two assists for Huskies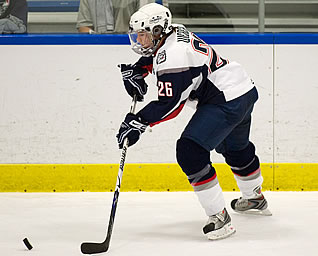 Monique Weber had a goal and two assists for UConn
BURLINGTON, Vt. - No. 9 Connecticut defeated the University of Vermont 4-1 in women's hockey action on Sunday afternoon at Gutterson Fieldhouse.
The Huskies got on the board quickly as Amy Hollstein scored just 21 seconds into the game. Hollstein was able to gather a pass from Monique Weber and fire a one-timer under the glove of UVM senior goalie Kristen Olychuck (Kelowna, British Columbia).
Connecticut's Jennifer Chaisson scored the eventual game-winning goal with less than three minutes remaining in the second period when she took a Kelly Horan pass and beat Olychuck stick side. Monique Weber scored less than a minute later off a deflection to give the Huskies a 3-0 lead.
Senior Chelsea Furlani (Colchester, Vt.) was able to cut the Connecticut lead to 3-1 with 33 seconds left in the second when she scored on the power play. Kailey Nash (Middletown, R.I.) was able to corral a loose puck before dishing it to Brittany Nelson (Shelburne, Vt.), who found an open Furlani at the blue line. Furlani fired a slap shot past Alexandra Garcia for her seventh goal of the year.
Michelle Binning added a goal in the third period for the Huskies.
Olychuck made 27 saves in the losing effort for the Catamounts, while Garcia made 18 to preserve the win.
The loss drops Vermont to 6-16-1 on the season and 1-9-1 in Hockey East action, while Connecticut improves to 13-6-5 and 4-3-4 in Hockey East.
Vermont returns to action next weekend when it hosts Boston U in a two-game series. Friday's (Jan. 22) game is scheduled to start at 7 p.m. and is part of Hockey East's Strides Against Breast Cancer. Saturday's (Jan. 23) game is slated to start at 4 p.m. Both games will be aired on WVMT-620 AM and on the Internet at SportsJuice.com.
Check back later to www.uvmathletics.com for video highlights of today's game.