Saturday, January 16, 2010
CONNECTICUT SKATES PAST VERMONT, 5-1
Cristin Allen posts goal and two assists for Huskies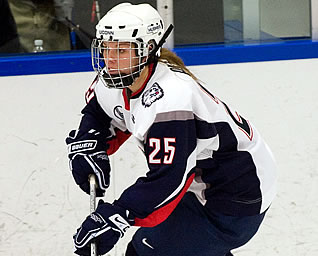 Cristin Allen had a goal and two assists for UConn
BURLINGTON, Vt. - The No. 9 Connecticut Huskies defeated the University of Vermont 5-1 in women's Hockey East action on Saturday afternoon at Gutterson Fieldhouse.
Junior Celeste Doucet (Memramcook, New Brunswick) gave the Catamounts an early 1-0 lead just three minutes into the first period when she scored her seventh goal of the season. Doucet was able to take a pass from Erin Wente (Scottsdale, Ariz.) and Brittany Nelson (Shelburne, Vt.) as she was falling to the ice and beat Connecticut's Alexandra Garcia.
The lead didn't last for long however, as the Huskies Kelly Horan scored just 15 seconds later to tie the game. Horan fired a shot from the point that went between UVM goalie Kristen Olychuck's (Kelowna, British Columbia) legs.
Michelle Binning, the Huskies leading scorer, notched her 14th goal of the season and the eventual game-winning goal just six minutes later when she rifled a slap shot just past the blue line over Olychuck's right shoulder.
Cristen Allen, Monique Weber and Jennifer Chaisson all added a goal for the Huskies.
Both teams struggled on the power play as the Catamounts were 0-for-7 and the Huskies went 1-for-6.
Olychuck made 17 saves in the losing effort while Garcia made 16 saves to preserve the win for the Huskies.
The loss drops Vermont to 6-15-1 on the season and 1-8-1 in Hockey East play, while Connecticut moves to 12-6-5 and 3-3-4 in Hockey East games.
The two teams meet again tomorrow (Jan. 17) at 2 p.m. for the second game of the two-game series.