Saturday, October 24, 2009
CONNECTICUT PICKS UP 4-1 WIN OVER UNION
UConn's Monique Weber and Cristin Allen record two points apiece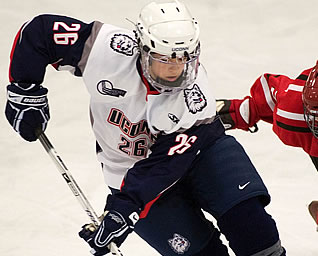 Monique Weber tallied two goals for the Huskies
STORRS, Conn. - The University of Connecticut women's ice hockey team won a 4-1 game against Union on Saturday at Mark Edward Freitas Ice Forum. Sophomore Monique Weber (Rogers, Min.) scored a pair of power-play goals while senior Amy Hollstein (Pembroke, Mass.) netted the gamewinner.
Union's Lauren Hoffn scored off the face off to the right of freshman Alexandra Garcia (Pointe-Claire, Que.) with an assist from Kelly Alyea to capture a 1-0 edge at 3:49. The Huskies continually pressured the Dutchwomen forcing a majority of the play in the offensive zone, searching for the equalizer. After the first 20 minutes, the score remained 1-0 Union.
Senior Cristin Allen (Pickering, Ont.) sent a pass to Elisabeth Stathopulos (Toronto, Ont.) who fed the puck to Weber in front of the net. Weber scored less than six minutes into the second period to even (1-1) the score on the power play.
All was quiet for the remainder of the second period despite UConn (4-3-1, 0-1-1-0) outshooting the Dutchwomen 9-5. The Huskies outshot Union (2-4-0, 0-0-0) in the game 30-17.
Less than a minute and a half into the third period, Hollstein scored with the help of Allen for the 2-1 UConn lead. It was Allen's second assist of the game.
Weber scored her second goal of the game and second on the power play with assists from juniors Jennifer Chaisson (Cumberland, Ont.) and Jody Sydor (St. Alberta, Alta.). UConn led 3-1 at 7:13 of the third period.
Senior Tiffany Good (Hellertown, Pa.) scored her second of the season off a pass from junior Jessica Lutz (Rockville, Md.) for the 4-1 final.
Garcia (2-4-1) finished the game with 16 saves for her second win of the season while Alana Marcinko (1-4-1) stopped 21 shots in her fourth loss of the year. Kate Gallagher played the final 10:25 of the contest, making five saves and allowing one goal.
UConn returns to Hockey East action at New Hampshire on Saturday, Oct. 31 before hosting Providence on Nov. 1 at 4 p.m.