CONNECTICUT EDGES ST. LAWRENCE, 2-1
Amy Hollstein scores game-winner for Huskies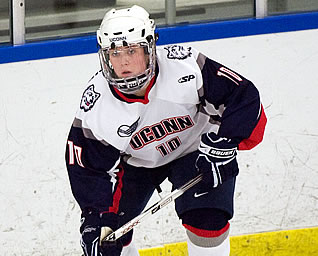 Amy Hollstein netted the game-winner for UConn
CANTON, N.Y. - Senior captain Amy Hollstein (Pembroke, Mass.) scored the game-winning goal less than three minutes into the third period of the University of Connecticut women's ice hockey team's 2-1 victory at No. 5 St. Lawrence on Friday night. The Huskies held the Saints scoreless despite an extra skater for the final 2:24 of regulation while sophomore Alexandra Garcia (Pointe-Claire, Que.) made eight saves in the third period.
Hollstein with assists from senior Michelle Binning (Oshawa, Ont.) and sophomore Monique Weber (Rogers, Minn.) put UConn ahead early in the third period. Together with Garcia's eight saves, the Husky defense rendered the Saint's efforts fruitless in the third period. The team blocked two St. Lawrence (0-1-0, 0-0-0) shots and denied the home team a goal in the final 2:24 of regulation.
Garcia finished the game with 13 saves while Brittony Chartier had 18 for the Saints.
Freshman Elisabeth Stathopulos (Toronto, Ont.) scored the first goal of her collegiate career just before the midway point of the game to tie it, 1-1. Juniors Brittany Murphy (Tewksbury, Mass.) and Jody Sydor (St. Alberta, Alta.) had the assists on the game-tying goal.
Stathopulos' mark answered St. Lawrence's Tara Akstull's power-play goal that gave the Saints a 1-0 advantage at 4:10 in the second period.
Neither team was able to find the back of the net in the first despite the Huskies outshooting St. Lawrence 8-6 in the first 20 minutes of play. UConn (1-1-1, 0-1-1-0) outshot the Saints 20-14 in the game, registering five shots on goal in a combined four power-play opportunities.
The regular season continues with a 4 p.m. game at No. 7 Clarkson in Potsdam, N.Y. on Saturday.
Game Notes
- This is the fourth time in Connecticut women's ice hockey history that the team has recorded its first win of the season on the road.
- It has been a balanced offensive effort for the Huskies thus far, with Brittany Murphy as the only player to record more than one point in three games.
- Elisabeth Stathopulos is the second rookie to record a point this season with Kelly Horan recording an assist at New Hampshire (Oct. 3)