Saturday, January 9, 2010
UCONN SWEEPS WEEKEND SERIES AGAINST ROBERT MORRIS WITH 4-0 WIN
Alexandra Garcia posts shutout for Huskies with 27 saves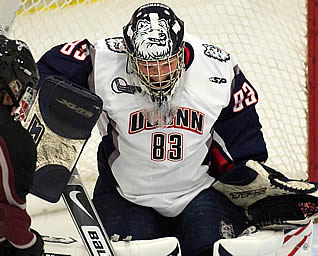 Alexandra Garcia made 27 saves for the Huskies
PITTSBURGH - The University of Connecticut women's ice hockey team extended its unbeaten streak to four games with a 4-0 victory over Robert Morris. Sophomore Alexandra Garcia (Pointe-Claire, Que.) turned aside 27 shots for her third shutout of the season. Senior assistant captain Michelle Binning (Oshawa, Ont.) scored twice at the Clearview Arena on Saturday.
Garcia made 11 saves in the first period while her counterpart Kristen DiCiocco turned aside 10 shots as neither team was able to score in the first 20 minutes. Binning had three scoring opportunities in the first period alone, finishing the game with nine.
The senior assistant captain opened scoring less than five minutes into the second period. Sophomore defensemen Sami Evelyn (Nepean, Ont.) and Rebecca Hewett (Oak Bluff, Man.) assisted Binning's fourth power-play goal of the season.
UConn led 1-0 going into the second intermission, extending the lead over the Colonials with three goals in the final stanza. Junior Jessica Lutz (Rockville, Md.) and senior Tiffany Good (Hellertown, Pa.) found junior Brittany Murphy (Tewksbury, Mass.) who scored for the 2-0 advantage at 4:26 in the third period.
Freshman Casey Knajdek (Woodbury, Minn.) and sophomore Monique Weber (Rogers, Minn.) tacked on the assists to Binning's second of the game with less than five minutes remaining in the third. Junior Jennifer Chaisson (Cumberland, Ont.) scored an empty-netter for the 4-0 UConn final at 16:54.
Garcia (8-5-5) made a combined 16 saves in the second and third period, denying Kathleen McDonald, who led the Colonials (5-15-1) with five shots on goal against the Huskies. DiCiocco (0-4-0) suffered her fourth loss of the season after making 28 saves in the game.
UConn (11-6-4) resumes Hockey East play on Jan. 16 and 17 at Vermont. Puck-drop is scheduled for 2 p.m. on both Saturday and Sunday at the Gutterson Fieldhouse.
Game Notes
- Alexandra Garcia has recorded shutouts against Boston College (Nov. 14), Quinnipiac (Nov. 27) and now Robert Morris (Jan. 9).
- Two goals on Saturday gives Michelle Binning her third game of the season with two goals and second such game in the last three contests.
- UConn has scored at least one power-play goal in each of the last three contests.
- Jennifer Chaisson's empty-netter was just the third unassisted goal by the Huskies this season.