CONNECTICUT UPENDS ROBERT MORRIS, 4-2
Maude Blain posts goal and assist for Huskies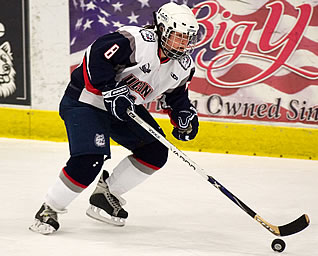 Brittany Murphy had two assists for the Huskies
PITTSBURGH - The University of Connecticut women's ice hockey game against Robert Morris was delayed due to unforeseen circumstances, delaying the start game did not slow the UConn offense in its 4-2 victory at Mellon Arena. With the aide of a shorthanded and a power-play goal, the Huskies secured their first victory in a professional hockey venue.
Freshman Kelly Horan (Methuen, Mass.) and junior Brittany Murphy (Tewksbury, Mass.) found Maude Blain (Magog, Que.) for a 1-0 lead midway through the first period. The shorthanded goal was the first career goal for the freshmen defensemen. It was the lone goal of the first period while the Huskies enjoyed a narrow 7-6 advantage in shots.
Two quick goals by UConn in the second period gave the Huskies a 3-0 edge going into the second intermission. Senior Michelle Binning (Oshawa, Ont.) extend her point streak to four games with a goal at 12:22 in the second. With the aid of sophomore Monique Weber (Rogers, Minn.) and senior Amy Hollstein (Pembroke, Mass.), Binning scored her 11th of the season.
Less than a minute and a half later, senior Tiffany Good (Hellertown, Pa.) scored on the power play with assists from sophomore Rebecca Hewett (Oak Bluff, Main.) and Blain. The Huskies finished 1-for-4 with the man advantage against the Colonials.
With 18 saves after 40 minutes of play, sophomore Alexandra Garcia (Pointe-Claire, Que.) was perfect en route to her seventh victory in the crease. She finished the game with 27 saves.
Freshman Elisabeth Stathopulos (Toronto, Ont.) continued the unanswered UConn run with her sixth of the season. Sophomore Jennifer Chaisson (Cumberland, Ont.) and junior Jody Sydor (St. Alberta, Alta.) tacked on assists to the 4-0 Husky lead.
The Colonials eventually got on the board with Jamie Joslin hitting the back of the net on the power play at 11:38. Dayna Newson and Cobina Delaney assisted the first Robert Morris goal of the contest. Joslin's goal cut the Colonial's deficit to three goals (4-1) with less than have of the final period of regulation remaining.
Delaney capitalized on an extra attacker with less than 20 seconds left in the game for the 4-2 final. The loss drops the Colonials to 5-14-1 while UConn moves to 10-6-4, extending it's unbeaten streak three games.
Game Notes
- Jennifer Chaisson cracks into the top-10 with her 34th career helper, tying Kristen Russell (2005-09).
- In series-opening games, UConn is now 14-22-1 and is 3-1 in series opening games this season after wins against Syracuse, Union and Robert Morris.
- Maude Blain's shorthanded goal is the fifth for the Huskies this season, tying a program record of five. UConn has scored five shorthanded goals in a season four times.