Friday, November 27, 2009
GARCIA, CONNECTICUT SHUT OUT QUINNIPIAC, 1-0
Alexandra Garcia posts shutout for UConn with 20 saves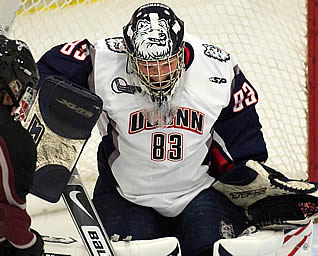 Alexandra Garcia made 20 saves for the Huskies
NEW HAVEN, Conn. - Sophomores Alexandra Garcia (Pointe-Claire, Que.) and Monique Weber (Rogers, Minn.) combined for a 1-0 University of Connecticut women's ice hockey victory in the Nutmeg Classic over Quinnipiac on Friday. The Huskies advance to the championship game at Ingalls Rink to face Yale on Saturday at 7 p.m.
Weber scored within the first five minutes of the game for her sixth goal of the season while Garcia made 20 saves in her second shutout of the year. Senior Amy Hollstein (Pembroke, Mass.) and freshman Elisabeth Stathopulos (Toronto, Ont.) set Weber up for the UConn goal.
UConn held Quinnipiac scoreless in seven power-play attempts in addition to Garcia turning aside eight shots in the second period.
Janine Duffy led the Bobcats with four scoring opportunities while Garcia and the UConn defense denied three other Quinnipiac (6-5-4, 4-1-3) players with three shots on goal.
Senior Michelle Binning (Oshawa, Ont.) led the Huskies (6-5-3. 1-3-3) with six shots on goal forcing the Bobcat's Victoria Vigilanti to make six of her game total 18 saves. Freshman Kelly Horan (Methuen, Mass.) joined Weber with four scoring chances on the night.
Saturday's game at 7 p.m. against Yale marks the third-consecutive time the Huskies will battle the Bulldogs in the Nutmeg Classic Championship game. UConn vies for its third-straight championship title at Ingalls Rink.
Game Notes
- The previous two Nutmeg Classic games have been 3-2 UConn victories over Yale.
- Monique Weber scored in last season's first game of the Nutmeg Classic with a power-play goal against Wayne State (Nov. 28, 2009).
- Connecticut has not shutout an opponent in the tournament since a 3-0 victory over Yale in game one of the 2006 Nutmeg Classic.