Friday, February 12, 2010
PROVIDENCE COLLEGE NETS SHOOTOUT WIN OVER CONNECTICUT
PC's Laura Veharanta scored lone goal of shootout in the fourth round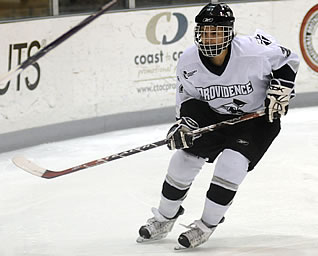 Laura Veharanta won the shootout for Providence
PROVIDENCE, R.I. - No. 8/9 Providence College women's hockey hosted No. 7 Connecticut and came away with a 1-0 victory in a shootout. The game ended in a 3-3 tie before sophomore Laura Veharanta (La Verne, Calif.) scored in the fourth round of the shootout to keep PC in first place in the Hockey East standings. Seniors Arianna Rigano (Malden, Mass.) and Jackie Duncan (Kitchener, Ontario) scored while sophomore goaltender Genevieve Lacasse (Scarborough, Ontario) made 23 saves in net.
After an emotional pre-game ceremony to celebrate the four graduating seniors, the class of 2010 came through to help keep the Friars at the top of the Hockey East standings. PC (13-9-9, 9-4-5-3 HE) honored Pam McDevitt (South Boston, Mass.) and Captain Colleen Martin (Woburn, Mass.) as well as Duncan and Rigano.
After falling behind at 10:14 of the first after a Connecticut (18-7-5, 9-4-5-1) power-play goal from freshman Maude Blaine, Rigano evened the score at 19:10. Rigano took a pass from the right wall from sophomore Kate Bacon (Chanhassen, Minn.) and beat UConn goaltender Alexandra Garcia low. The goal was Rigano's seventh with Bacon earning her fifth assist.
The senior class struck again when Duncan slammed home a rebound in front following a tip from sophomore Ashley Cottrell (Sterling Heights, Mich.). Junior Amber Yung (Rockville, Va.) also assisted on the play. The goal was Duncan's first of the season with Cottrell and Yung earning their 15th and ninth assists, respectively. The Friars took a 3-1 lead at 14:51 when Alyse Ruff (Tualatin, Ore.) scored her 11th goal of the year with a power-play strike from the left side of the net. Freshman Jessica Vella (Pickering, Ontario) earned her fifth assist on the year with Lacasse earning her second assist.
Connecticut came back to even the score with two goals in the third. Blain struck again at 3:48 and Michelle Binning put home the game-tying goal with a one-timer on the power-play at 10:31 after a pair of passes from Jennifer Chaisson and Sami Evelyn.
Neither team scored in overtime leading to the shootout, Providence's fifth in league play. UConn shot first and after three rounds, neither team was able to beat the opposing goaltenders. Connecticut freshman Kelly Horan's attempt to start the fourth round was saved by Lacasse and Veharanta lifted a back-hand over the right pad of Garcia to give PC the extra point in the league standings.
Connecticut held a 32-26 advantage in shots for the game with Lacasse earning 23 saves and Garcia tallying 29 stops.
The two teams compete again tomorrow at 4:00 p.m. at The Mark Edward Freitas Ice Forum in Storrs, Conn.