NU EARNS EXTRA CONFERENCE POINT WITH SHOOTOUT WIN OVER UCONN
Brittany Esposito and Alyssa Wohlfeiler tally shootout goals for NU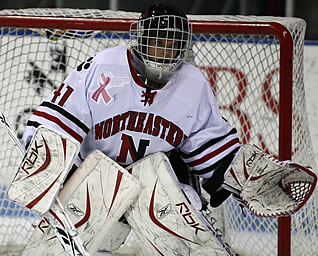 Florence Schelling made 24 saves for NU
The Northeastern women's hockey team (1-0-1, 1-0-1-1) went the distance in its first Hockey East contest against Connecticut on Sunday afternoon as both clubs battled to a 1-1 tie at Matthews Arena. After a stalemate in the five-minute overtime period, the Huskies earned an extra point in the standings with a shootout victory, thanks to goals by freshman Brittany Esposito and junior Alyssa Wohlfeiler.
The battle of the Huskies was evenly matched throughout the day as UConn held a narrow advantage in overall shots, 25-23. Sophomore Florence Schelling stopped 24 shots while Connecticut's Alexandra Garcia made 22 saves.
Tiffany Good struck first with a nifty backhand at the 6:34 mark of the first period to give Connecticut the early 1-0 lead. Jessica Lutz and Sami Evelyn were credited with the help on the tally.
Despite two powerplay opportunities on the backend of the first period, Northeastern was not able capitalize. Freshman Casey Pickett evened the count early in the second period, 1-1, on a nice feed from junior Kristi Kehoe. Pickett found room in front of the net and buried it at 2:32 of the second.
Northeastern was presented with a good chance when UConn's Monique Weber was given a game misconduct for hitting from behind at the 2:51 point of the third stanza to give NU a five-minute powerplay. Northeastern was not able to convert, extending the game for another five minutes.
Connecticut tossed three shots on net while the Huskies registered two in the five-minute overtime session, but both goaltenders stood tall to force the shootout.
Esposito connected on NU's first shootout attempt with a deke to the forehand to nudge it by the sprawled Garcia. Schelling thwarted Jennifer Chaisson and Michelle Binning before Wohlfeiler hit the back of the twine with a similar maneuver as her teammate. Wohlfeiler shuffled the puck twice before unleash a wrist shot past Garcia for overtime shootout point.
Northeastern welcomes Robert Morris to Matthews Arena for a non-conference bout on Sat., Oct. 10 at 2 p.m.