Sunday, February 21, 2010
SULYMA POSTS BACK-TO-BACK SHUTOUTS AS NU TOPS UCONN, 2-0
NU junior goaltender Leah Sulyma made 32 saves to pick up her second shutout in as many days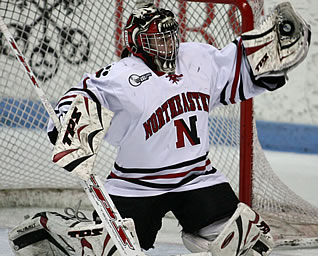 Leah Sulyma has earned back-to-back shutouts
Northeastern earned its 500th program victory on Senior Day at Matthews Arena on Sunday, 2-0 over No. 7 Connecticut in the regular season finale. Junior Leah Sulyma pitched her second consecutive shutout with 32 saves and received goal support from junior Kristi Kehoe and freshman Brittany Esposito.
With the victory, the Huskies jump into second place in Hockey East and can finish no lower than fourth in the final standings. The Huskies have never finished higher than fourth place in the Hockey East standings, achieving fourth only once before in the seven-year history of the league (2004-04). The Huskies' quarterfinal opponent will be decided following the conclusion of the New Hampshire/Boston College game tonight at 7 p.m.
For the second straight game, Sulyma stole the show for Northeastern. The junior stopped 10 pucks in each of the first two periods, before knocking away 12 in the final frame. Eight of UConn's 32 shots came on power-play opportunities, including a five-minute stretch late in the second period. Tiffany Good was the only UConn skater to fool Sulyma on the day, but her quick wrister glanced off the crossbar early in the third period.
Kehoe scored the eventual game-winner at 10:20 of the second period on the power play. Senior Annie Hogan threw the puck to the right point to senior Lindsay Berman, who quickly fired a shot toward the UConn cage. Kehoe was able to get her stick on the shot and redirect it through the legs of UConn netminder Alexandra Garcia.
Esposito added a crucial insurance marker at 14:04 of the third with a beautiful wrister from the low slot. Off a save by Sulyma, junior Alyssa Wohlfeiler scooped up the puck behind the NU net and carried it up the boards. Exchanging passes with Esposito, Wohlfeiler eluded a defender and laid a pass onto the stick of the freshman, who found an opening between two UConn players. Esposito rifled a quick wrister over the shoulder of Garcia to give the Huskies some breathing room on the scoreboard late in the game.
In three meetings against UConn this season, the Huskies allowed only one goal as Good scored in the first period of the first meeting on Oct. 4. Since Good's tally 6:34 into the game, Northeastern held UConn scoreless for 173:26 minutes.
The victory snapped a seven-game winless streak for Northeastern and gave the Huskies their first win over a ranked-opponent this season. Prior to the game, Northeastern honored the seven seniors who played in their final regular season home game: Katy Applin, Sydney Arbelbide, Ginny Berg, Lindsay Berman, Kasey Cedorchuk, Annie Hogan and Cassie Sperry.