Tuesday, December 8, 2009
CONNECTICUT EDGED BY HARVARD, 2-1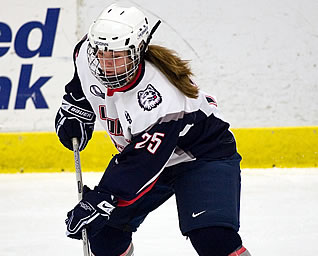 Cristin Allen scored a goal for the Huskies
CAMBRIDGE, Mass. - Senior Cristin Allen (Pickering, Ont.) struck early on Tuesday in the No. 10 University of Connecticut women's ice hockey team's 2-1 loss to No. 6/7 Harvard at the Bright Center. Sophomore Alexandra Garcia (Pointe-Claire, Que.), reigning Hockey East Defensive Player of the Week, made a career-high 35 saves against the Crimson.
The Huskies fall to 8-6-4 overall, heading into the break for final exams while the Crimson extend their unbeaten streak to eight games with the win and improve to 8-3-2.
With assists from junior Jody Sydor (St. Alberta, Alta.) and senior Michelle Binning (Oshawa, Ont.), Allen scored 2:11 into the opening stanza. It was the first goal of the season for Allen, who leads the team in assists with 10 thus far.
The Huskies jumped out to the early lead with the power-play goal and held on until Kate Buesser scored with less than five minutes remaining in the first period to tie the game, 1-1.
Liza Ryabkina and Cori Bassett had the assists on the first two power-play goals by Harvard in the game. Kaitlin Spurling scored the gamewinning goal on the power play at 16:12 in the second period. Kathryn Farni and Katharine Chute assisted the goal. Harvard held on to its 2-1 edge for the final as the Crimson outshot the Huskies 37-18.
Garcia (5-5-4) turned aside 35 Harvard shots while her counterpart Christina Kessler was forced to make 17 saves on the night.
Women's ice hockey is at a standstill until No. 10 UConn hosts Dartmouth for a two-game series at Mark Edward Freitas on Jan. 2 and 3. Both games are set to begin at 1 p.m. On Jan. 3, young fans are invited to participate in Skate with the Huskies.
Game Notes
- The Huskies have scored at least one power-play goal in three of the last four games, including a season-high three against Yale in the Nutmeg Classic Championship game.
- Michelle Binning has recorded at least one point in three of the last four games and now has four assists on the year.
- Although Cristin Allen is a consistent presence on the UConn power play, she has not scored a power-play goal since Jan. 4, 2009 against Vermont.