VERMONT DEFEATED BY CLARKSON, 4-0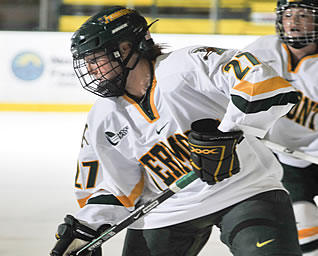 Erin Barley-Maloney
BURLINGTON, Vt. - The No. 4 ranked Clarkson Golden Knights handed the University of Vermont women's hockey team its first loss of the season on Friday night by a score of 4-0. The win for Clarkson is its fourth win over a Hockey East opponent this season and its 12th consecutive win over the Catamounts.
Melissa Waldie stuck first for the No. 4 team in the country when she was able to deflect a Domini Thibault pass to beat Kristen Olychuck (Kelowana, British Columbia) for her fifth goal of the season.
Less than two minutes later Clarkson was able to extend its lead to 2-0 when Juana Baribeau was able to control a rebounded shot and slide it past Olychuck glove side. Genevieve Lavoie recorded the assist on the play for her 100th career point at Clarkson.
Despite falling behind early the Catamounts continued to keep up the pressure on the Golden Knights as they outshot them 32-29 for the game. UVM head coach Tim Bothwell said he was pleased with his team's effort.
"I loved the way we competed from start to finish," Bothwell said. "We played hard and smart against a very good team."
Junior Celeste Doucet (Memramcook, New Brunswick) nearly scored at the end of the first period when she slid a shot across the goal line forcing the referees to review the shot on the monitor. However, they upheld the decision as a non-goal.
After a scoreless second period the Golden Knights struck again four and a half minutes into the third period when Britney Selina rebounded a shot from Melissa Waldie before she beat Olychuck to the upper right part of the goal.
The Catamounts will have another shot to get their elusive first win against Clarkson on Saturday at 4 p.m. It's something Bothwell knows will not come easy however.
"It's going to be a tough assignment to do better tomorrow," Bothwell said. "I know we can polish up some areas though and hopefully can get a different result."
The loss drops UVM to 2-1-0 on the season, while Clarkson moves to 4-0-1.
Live stats for tomorrow's game can be found at Hockeyeastonline.com.