PROVIDENCE FALLS TO CLARKSON IN OVERTIME, 3-2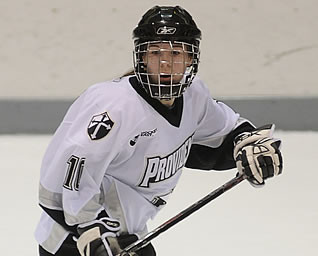 Ashley Cottrell scored a goal for the Friars
POTSDAM, N.Y. - The Providence College women's hockey team battled back to tie the score on two seperate occassions but fell in overtime, 3-2. Senior Colleen Martin (Woburn, Mass.) and sophomore Ashley Cottrell (Sterling Heights, Mich.) scored goals for Providence while sophomore Genevieve Lacasse (Scarborough, Ontario) made 27 saves. The Friars fell to 2-1-0 (2-0-0 HE).
Clarkson opened the scoring at 6:03 of the first period on a goal from Daris Tendler. Providence was held scoreless in the first 20 minutes but came back to tie it early in the second period with a power-play goal from senior captain Colleen Martin. At 4:02, Martin fired a shot through traffic that found its way to the back of the net. Junior Alyse Ruff (Tualatin, Ore.) earned her second assist of the season on the play while freshman Jessica Cohen (Anchorage, Alaska) tallied her third assist of the season.
After a late second-period goal from Clarkson, Cottrell fired home her third goal of the season at 14:41 of the third period. Junior Jean O'Neill (Strafford, Pa.) assisted on the play. Lacasse finished regulation with 27 saves but Clarkson managed to score on its first shot of the overtime period at 1:26.
The Friars will travel to No. 5 St. Lawrence on Saturday for a 3:00 p.m. contest.