Saturday, October 10, 2009
CONNECTICUT DEFEATED BY CLARKSON, 4-0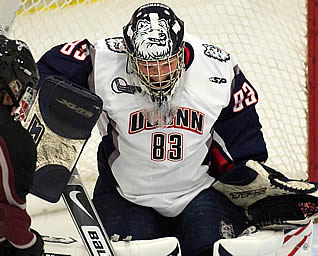 Alexandra Garcia made 23 saves for the Huskies
POTSDAM, N.Y. - It is second-consecutive game against a nationally ranked opponent the University of Connecticut women's ice hockey team was shutout at No. 7 Clarkson on Saturday. Despite 23 saves from sophomore netminder Alexandra Garcia (Pointe-Claire, Que.), the Huskies were unable to overcome an early deficit and lost a 4-0 decision at the Cheel Arena.
Garcia has finished with 20 or more saves in three of four games this season and did so once again against the Golden Knights on Saturday. Clarkson outshot the Huskies, 27-16 in the game, including five on the power play where the Golden Knights first goal of the game came at 13:03 in the opening stanza.
Sophomore Monique Weber (Rogers, Minn.) and freshman Kelly Horan (Methuen, Mass.) each had a pair of scoring opportunities in the first period and each finished the game with three shots on goal.
Clarkson scored twice more on a game-high 11 shots in the second period, both even-strength goals. Melissa Waldie added another to the Golden Knight total less than three minutes into the final period of regulation for the 4-0 edge.
The loss drops UConn's record to 1-2-1 overall while Clarkson improves to 3-0-1. Women's ice hockey opens the season at home on Friday, Oct. 16 at 7 p.m. with a game against Syracuse at Mark Edward Freitas Ice Forum.
Game Notes
- The last time Connecticut was shutout in the regular season was on Nov. 20 against No. 8 Boston College.
- Saturday's game marks the third nationally ranked opponent the Huskies have faced this season.
- This was the first time UConn has faced Clarkson in women's ice hockey and the same is true for the next Connecticut opponent - Syracuse.