Saturday, October 17, 2009
CONNECTICUT FALLS TO COLGATE, 5-2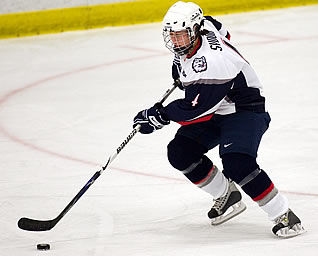 Jody Sydor had a goal and an assist for the Huskies
STORRS, Conn. - The University of Connecticut women's ice hockey team fell 5-2 to Colgate on Saturday evening at Mark Edward Freitas Ice Forum. The Huskies scored their first power-play goal of the season with junior Jody Sydor (St. Alberta, Alta.) netting her first of the year.
The Raiders were the first to get on the scoreboard with Jordan Brickner getting an unassisted mark past sophomore Alexandra Garcia (Pointe-Claire, Que.) with 11:31 on the clock. UConn entered the locker room in the first intermission down by just one goal.
Two quick goals early in the second period saw Colgate jump out to a 3-0 advantage. Ali Edell and Brittany Philips scored just over a minute apart. The Huskies trailed by three with 13:49 remaining in the second period.
Defensemen Cristin Allen (Pickering, Ont.) and Sami Evelyn (Nepean, Ont.) directed the puck to sophomore Monique Weber (Rogers, Minn.) who weaved her way through the neutral zone, passing Colgate to backhand a shot over the glove of Kimberly Sass at 9:48 in the second.
Later in the second period, Brickner sent a pass to Marissa Dombovy who increased the Raider lead back to three with a goal at 11:10. Colgate led 4-1 just past the midway point of the contest.
Senior Jennie Bellonio (Guildford, Conn.) took over netminding duties for the Huskies with 7:50 remaining in the second period. Bellonio did not make a save until the third period as UConn tightened its defenses and focused on cutting the deficit.
Freshmen Casey Knajdek (Woodbury, Minn.) and Elisabeth Stathopulos (Toronto, Ont.) had the assists on Sydor's goal at 15:29 of the second period. UConn closed the scoring gap, making it a 4-2 game after capitalizing on a five-on-three situation.
At the start of the final period of regulation, it was a 4-2 game and the Huskies outshot the Raiders 14-3 in search of a way to get on the board again. Sass stopped each UConn shot and finished the game with 32 saves.
It was an empty-net goal by Jacquie Colborne that gave the game its 5-2 final as Bellonio left the crease in favor of an extra skater.
Huskies fall to 2-3-1 overall while the Raiders improve to 1-3-0 with their first win of the season. Connecticut continues the season with a Friday, Oct. 23 game at Brown. Face-off in Providence, R.I. is set for 7 p.m.