BOSTON UNIVERSITY SKATES PAST YALE, 4-1
Melissa Anderson registers two goals and assist for the Terriers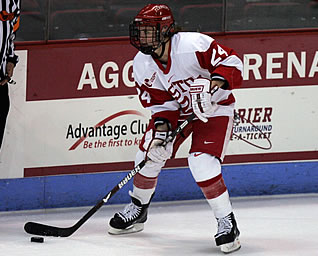 Melissa Anderson had two goals and an assist for BU
BOSTON - The Boston University women's ice hockey team started off its 2010 schedule with a 4-1 win over Yale, Friday afternoon at Walter Brown Arena. The win moves the Terriers to 8-6-7 on the year while Yale falls to 4-9-2 overall.
Leading 3-0 entering the third period, the Terriers conceded an early goal to the Bulldogs, closing the guest's deficit to two with 16:30 to play. The Terriers responded midway through the final period as Jill Cardella netted her 10th goal of the season off feeds from Laurel Koller and Kasey Boucher, to seal the 4-1 win for the Terriers.
Melissa Anderson netted the first two goals of the game for BU and added an assist on Jillian Kircher's second period tally for a three-point game. Koller set a career-high for assists, recording three helpers on the afternoon. Goalie Melissa Haber recorded 27 saves for her eighth win of the season, while Bulldog counterpart Jackee Snikeris stopped 30 shots on the game.
Yale committed the lone penalty of the first period and BU did not waste the man-up opportunity. The Terriers took possession off the ensuing faceoff and worked the puck down low where Melissa Anderson shoved the puck across the line through a scuffle of Bulldog defenders for a 1-0 lead at the 5:19 mark.Laurel Koller and Carly Warren picked up their third and sixth assists of the season on the goal, respectively.
Anderson struck again in the back half of the second period, capitalizing on a 5-on-3 advantage with 7:13 to play in the period. Lauren Cherewyk moved the puck to Christina Wiley behind the net and Wiley slid a pass that Anderson converted for her second tally of the game.
The Terriers stretched their lead to 3-0 on their first even-strength effort of the day with just under three minutes to play in the middle period. Anderson fired a shot from close range and that was stopped, as did Koller but the third point-blank blast from Jillian Kirchner bested Snikeris to give the hosts a 3-0 edge at the second intermission.
The Terriers face off against their final ECAC Hockey opponent on Sunday, Jan. 10 when they welcome the Brown Bears to Walter Brown Arena for a 3 p.m. contest.