Wednesday, November 11, 2009
BOSTON UNIVERSITY POSTS 4-0 SHUTOUT OVER VERMONT
Jillian Kirchner and Lauren Cherewyk each post goal and assist for Terriers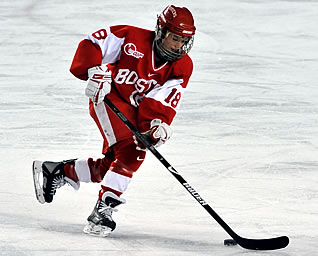 Jillian Kirchner had a goal and an assist for BU
BOSTON - The No. 7 women's ice hockey team stayed perfect at home against Vermont, downing the Catamounts 4-0 on Wednesday night at Walter Brown Arena. The win moves BU to 4-3-5 on the season and 2-2-1-1 in Hockey East action, while Vermont slips to 5-6-0 on the year and 1-4-0 in conference play.
With the win, BU improves its career record against the Catamounts to 7-0-0 at Walter Brown and 11-1-1 overall in 13 career matchups. Goalie Melissa Haber stopped 16 shots in her sixth career shutout, and how stands one shy of Allyse Wilcox's program record of seven for her career. The Terriers have now shutout the Catamounts in five of seven games played at Walter Brown.
The Terriers got on the board first, thanks to a heads-up play in their own zone. Jonnie Bloemers wrestled a puck away from a Vermont defender and winged a pass up ice to a streaking Jill Cardella. The freshman faked a wrist shot and flipped home a back-handed effort for her seventh goal of the season.
BU doubled its lead at the tail end of the first to take a 2-0 advantage into the first intermission. Jillian Kirchner worked the puck to Jenelle Kohanchuck at the red line, who weaved into the UVM zone. With two defenders on her, Kohanchuk managed to knock a pass to Lauren Cherewyk just outside the left faceoff circle, who buried the puck with 08.5 seconds left in the period.
A Catamount penalty put the Terriers on a power play early in the second period and BU was quick to capitalize. Lauren Cherewyk received a pass right in front of the crease and after Kristen Olychuck stuffed her attempt and another by Kohanchuk, Jillian Kirchner swept in and potted her third goal of the season for a three-goal lead.
Anderson put the finishing touch on the scoring, netting her second goal of the season for her 103rd career point. Kathryn Miller put a shot on net and Anderson jumped on the rebound and sealed the 4-0 win.
BU takes the ice again on Saturday, Nov. 14 as it welcomes Providence to Agganis Arena for the front end of a home-and-home with the Friars. Gametime is scheduled for 2 p.m.