Saturday, January 23, 2010
BOSTON UNIVERSITY NOTCHES 3-2 WIN AT VERMONT
Junior Jillian Kirchner posts goal and assist for Terriers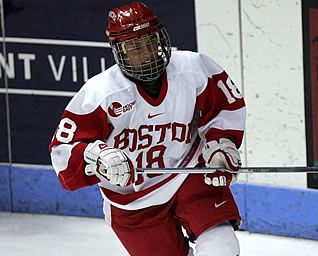 Jillian Kirchner had a goal and an assist for BU
BURLINGTON, Vt. - Boston University used two short-handed goals to defeat the University of Vermont 3-2 in women's hockey action Saturday evening at Gutterson Fieldhouse.
Holly Lorms put the Terriers on the board just two minutes into the game when she intercepted a pass in the UVM zone to beat senior goalie Kristen Olychuck (Kelowna, British Columbia) for BU's first short-handed goal.
Deja vu struck nine minutes later when Jillian Kirchner scored her seventh goal of the season by stealing a Vermont pass while on the penalty kill. Kirchner was able to skate past the UVM defenders before beating Olychuck glove side to give Boston U a 2-0 lead in the first period.
Sophomore Chelsea Rapin (Walled Lake, Mich.) cut the BU lead to 2-1 just three minutes into the second period when she scored her third goal of the season. Rapin was able to corral a Teddy Fortin (Brunswick, Maine) and wrap around the back of the net before sliding the puck past Boston U's Alissa Fromkin.
Laurel Koller pushed the Terrier lead up to 3-1 when she scored 12 minutes into the third period, however UVM freshman Emily Walsh (Suffield, Conn.) just nine seconds later to cut the lead back to a one goal deficit.
The Catamounts were never able to tie the game up however as Fromkin made five saves in the third period to preserve the win for the Terriers. Olychuck made 16 saves in a losing effort for Vermont.
The Catamounts drop to 7-17-1 on the season and 2-10-1 in Hockey East action, while Boston U improves to 10-7-8 and 6-5-3 in Hockey East games.
Vermont returns to action next weekend with two Hockey East games on the road. Vermont will travel to Providence on Friday for a 7 p.m. game before traveling to Connecticut for a 2 p.m. game on Saturday.