Saturday, November 7, 2009
BOSTON UNIVERSITY GRABS SHOOTOUT WIN AT NEW HAMPSHIRE
Laurel Koller wins shootout for Terriers; Courtney Birchard ties game in final minute for Wildcats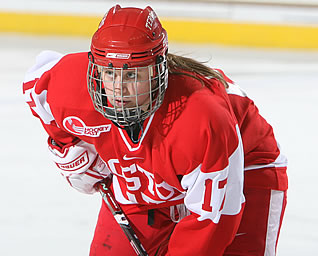 BU's Laurel Koller scored the decisive shootout goal
DURHAM, N.H. - Courtney Birchard (Mississauga, Ontario) scored with 54 seconds remaining in regulation to lift the third-ranked University of New Hampshire women's ice hockey team to a 4-4 tie against eighth-ranked Boston University in Hockey East action at the Whittemore Center on Saturday night. BU won the shootout, 1-0, in four rounds to earn an extra point in the league standings.
UNH, which extended its unbeaten streak to five games (3-0-2), is now 8-1-3 overall and 4-0-1-0 in Hockey East. BU is 3-3-5, 1-2-1-1.
Birchard finished with a goal and an assist while Micaela Long (South Boston, Mass.) was credited with two assists. UNH goaltender Kayley Herman (Weyburn, Saskatchewan) tallied 24 saves, including nine in the first period.
Ten Terriers recorded one point and BU goalie Alissa Fromkin stopped 21 shots, including eight in the second stanza.
Following a scoreless overtime session in which both teams recorded one shot, the game advanced to a shootout. UNH opted to shoot first, and Kelly Paton (Woodstock, Ontario) was turned aside by Fromkin at the right post. BU's Jenelle Kohanchuk fired a shot wide right to keep the shootout scoreless through one round. Neither UNH's Long nor BU's Melissa Anderson scored in Round 2, and then both Birchard and Tara Watchorn did not convert in the third round to send the shootout into sudden-death rounds.
In the fourth round, Julie Allen (Brampton, Ontario) charged the slot and fired a shot that was stopped by Fromkin. BU's next shooter, Laurel Koller, also advanced down the slot and wristed a shot inside the left post to end the game.
UNH skated to a 1-0 lead in the first period. Kelly Cahill (Farmington Hills, Mich.), with the assistance of Kristina Lavoie (Fonthill, Ontario), scored on a shot from the left circle at 1:10. Sarah Cuthbert (East Falmouth, Mass.) scored on a breakaway to increase the lead to 2-0 at 13:22. Birchard set up the next tally with an outlet pass to Long, whose centering pass from the left wing found Kristine Horn (Utica, Mich.) cutting down the slot. Horn then jammed a close-range shot into the net at 19:06.
BU scored four consecutive goals spanning the second and third periods to take a 4-3 lead. Shannon Mahoney began the comeback when she lifted a shot from the right doorstep into the upper-right corner of the net at 5:01. Kathryn Miller scored 80 seconds later on a shot from the right circle to pull the Terriers within 4-2.
The visitors pulled even, 3-3, with a 5x3 power-play goal at 10:54 in which Kasey Boucher's shot from the high slot sailed through traffic and between Herman's leg pads. BU took its first lead of the night with 1:38 remaining in regulation when Carly Warren's shot from the right point was redirected into the net by Jill Cardella.
The Terriers were called for a penalty just 15 seconds later, however, at which point UNH called time out and pulled Herman in favor of an extra skater. From the right point, Paton swung the puck to Birchard at the high slot, and her shot caromed off a BU player into the cage for the game-tying goal at 19:06. Long was also credited with an assist.
With 9.1 seconds to play, UNH won a faceoff in its defensive zone and Paton quickly skated along the right dashers into the offensive zone to create a 2-on-1 rush. She saucered a pass to Long, who skated down the slot and wristed a shot that deflected off Fromkin's left leg pad and wide of the right post with one second to play.
UNH extended its overtime unbeaten streak to 20 games (5-0-15) with its third tie of the season. The Wildcats are 5-0-14 in the last 19 overtime games at the Whittemore Center.
With the tie, UNH remains unbeaten at 65-0-10 in league regular-season home games since the inception of Hockey East in the 2003 season.
New Hampshire returns to action Nov. 14 (2 p.m.) at Vermont. The Wildcats' next home game is Nov. 21 (5 p.m.) vs. Rensselaer. The following day (Nov. 22; 1 p.m.), UNH's Whittemore Center is the site of a Hockey East All-Star vs. Team USA exhibition game. Tickets are available now.