BOSTON UNIVERSITY SKATES TO 1-1 TIE WITH OHIO STATE
Lauren Cherewyk scores lone Terrier goal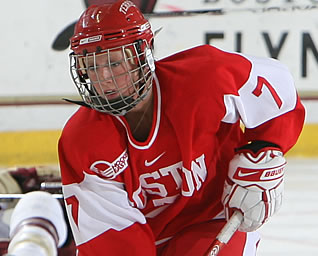 Lauren Cherewyk notched the Terrier goal
BOSTON – The Boston University women's ice hockey team held a 1-0 lead late into the third period but could not hold on as Ohio State evened the score in regulation and took home a 2-1 shootout win. The Terriers' record now stands at 0-0-1 with one shootout loss while Ohio State captures the shootout victory.
Both the Terriers and Buckeyes had good scoring chances in the first period, but neither team could capitalize. An early hooking penalty on BU put Ohio State on a power play just 59 seconds into the game, but Haber was able to keep the visitors off the scoreboard. The Terriers had a 5-on-3 opportunity for 16 seconds late in the first stanza, but multiple Buckeye clears kept the score at 0-0 after one.
The Terriers came out gunning in the second and their offensive efforts paid off in the fifth minute. Carly Warren took a loose puck in her own end, flipped it to Jillian Kirchner along the boards, who dished it to a streaking Lauren Cherewyk down the left side. Cherewyk controlled the pass and fired from the left point, beating freshman keeper Chelsea Knapp stick-side for a one-goal lead. Ohio State saw a number of good chances in the BU zone in the waning minutes of the period, but Haber recorded a number of clutch saves to preserve the 1-0 lead.
The teams came out defensively to start the third period, obtaining scoring opportunities on counter attacks through the first part of the stanza. The Buckeyes were unable to capitalize on a Kathryn Miller hooking penalty midway through the period, but converted a power play chance with just under seven minutes remaining in the game.