Sunday, February 14, 2010
BOSTON UNIVERSITY EDGES PAST NORTHEASTERN, 2-1
Carly Warren and Melissa Anderson score goals for Terriers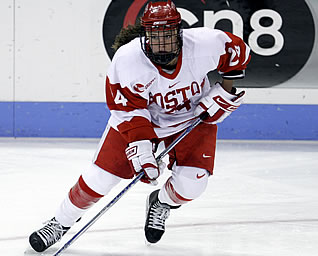 Melissa Anderson picked up the game-winner for BU
The No. 8/9 Northeastern Huskies dropped a tightly-contested affair on Sunday afternoon vs. Boston University, 2-1 at Matthews Arena. Senior Lindsay Berman scored Northeastern's lone goal and junior Leah Sulyma stopped 26 pucks in the defeat.
Heading into the final weekend of Hockey East play, the Huskies and Terriers sit two points back of Connecticut, Providence and New Hampshire, who are all tied for the conference lead with 26 points. Boston College has clinched the sixth and final playoff spot with 20 points, while Vermont and Maine have been eliminated from postseason contention.
Sunday's game closely followed the script of Saturday's affair as the Huskies struck first, only to have BU score the next two. Unlike Saturday's contest, however, the Huskies did not have an answer in the third period to extend the game. Senior Lindsay Berman generated the Huskies' three best chances of the game, scoring in the opening period and hitting the post twice.
Berman's goal, her eighth tally of the season, put the Huskies in front at the 13:06 mark of the first period. On a power play, senior Katy Applin fired a shot through traffic that deflected behind the cage. Junior Kristi Kehoe picked up the disc and centered it to Berman, who tapped it behind BU netminder Melissa Haber.
The advantage held until midway through the second period when Carly Warren knotted the scoreline at 1-1. Following a Northeastern penalty, Jonnie Bloemers won the offensive-zone draw for BU, pulling the puck back to Kasey Boucher at the right point. Boucher threw the puck to Warren at the opposite point for a one-timer, which found its way on net and over the stick of Sulyma at 10:26.
The Terriers grabbed the lead for good at 16:37 of the frame off a neutral zone turnover. Jill Cardella grabbed the loose puck and skated in on a 2-on-1 with Melissa Anderson to her right. Cardella waited for the defender to go down, before delivering a saucer pass to Anderson in the low right slot. Anderson roofed the shot off the underside of the crossbar for her fourth goal against the Huskies this season.
Haber stopped 19 shots for the Terriers, including two big skate saves early in the third on Berman and junior Alyssa Wohlfeiler. The win extended the Terriers unbeaten streak to five games, while the defeat prolonged the Huskies winless streak to six straight games.
The Huskies close out the regular season next weekend with a home-and-home series against UConn Feb. 20-21.