Saturday, February 13, 2010
BOSTON UNIVERSITY PICKS UP SHOOTOUT WIN AGAINST NORTHEASTERN
Teams skate to 2-2 tie; Terriers take shotout, 1-0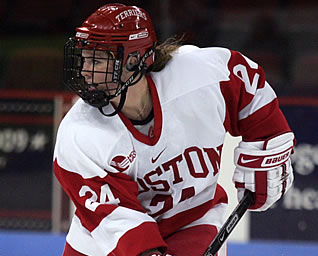 BU's Melissa Anderson scored her 16th goal of the season
BOSTON - Junior forward Lauren Cherewyk and senior forward Melissa Anderson scored second-period goals as the Boston University women's ice hockey team captured a shootout win after skating to a 2-2 tie with ninth-ranked Northeastern on Saturday afternoon at Walter Brown Arena. Junior forward Holly Lorms scored for the Terriers and senior goaltender Melissa Haber stopped all three shots she faced in the shootout.
BU's record moves to 11-8-12 overall, extending the Terriers' NCAA record for most ties in a season, and 7-6-4 with three shootout wins in Hockey East. The Huskies move to 16-7-6 overall and 8-5-4 with three shootout wins in league play. The Terriers also added to their NCAA record with their 14th overtime game of the season.
Haber made 22 saves in the contest for BU, while junior Leah Sulyma stopped 34 shots at the other end of the ice for Northeastern.
After a scoreless first period, the Huskies jumped on the board early in the second, when freshman forward Brittany Esposito scored in four-on-four action, giving her a goal in each of her first three career games against BU with her ninth tally of her rookie season.
The Terriers leveled the score in the middle of the period when freshman forward Jill Cardella found Cherewyk, who drove the net to deposit her ninth goal of the season.
Before the second frame was through, the Terriers' top line struck again with Anderson, BU's all-time leading scorer, knocking in her own rebound at the 14:19 mark for her team-leading 16th goal of the season after Cherewyk and Cardella set up the initial shot.
Senior forward Lindsay Berman tied the game again, scoring her seventh goal of the season for the Huskies 1:12 into the third period with assists coming from freshmen forwards Kelly Wallace and Siena Falino.
Both sides were 0-for-2 on the power play, marking the fourth straight game the Terriers have been perfect on the penalty kill.
The crosstown rivals square off again tomorrow, wrapping up the home-and-home series at Matthews Arena at 2 p.m.