BOSTON UNIVERSITY TOPPED BY MERCYHURST IN NCAA'S, 4-1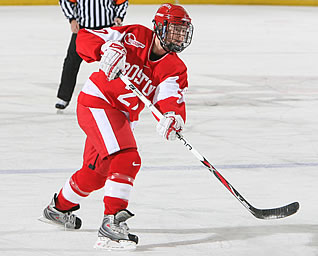 Tara Watchorn had a power-play goal for the Terriers
ERIE, Pa. - A pair of goals from sophomore Bailey Bram lifted top-ranked Mercyhurst to a 4-1 win over the eighth-ranked Boston University women's ice hockey team in the NCAA quarterfinals on Saturday afternoon at the Mercyhurst Ice Center. Sophomore Tara Watchorn scored the lone goal for the Hockey East champion Terriers, who concluded their fifth season of varsity play with a 17-9-12 record, the fewest losses in program history.
College Hockey America champion Mercyhurst improved to 30-2-3 and will face ECAC Hockey champion Cornell in the NCAA semifinals next weekend in Minneapolis. Sophomore Hillary Pattenden made 17 saves for the Lakers.
The Lakers jumped on the board with a pair of power-play goals about two minutes apart in the first period, both of which were set up by the nation's leading scorer, senior forward Jesse Scanzano.
Mercyhurst struck first when junior defenseman Cassea Schols blasted a shot from the blue line 14:26 into the game for her fifth goal of the season.
On Mercyhurst's next power play, senior forward Bailey Bram snuck a puck through traffic to double the Lakers' lead at the 16:36 mark.
The Lakers added to their lead early in the third period, when junior forward Vicki Bendus weaved her way through the BU defense and dished to sophomore forward Jess Jones, who took a shot that Bendus deflected in for her 28th goal of the season.
The Terriers broke through in the third when the Lakers were whistled for a pair of penalties that gave BU a two-man advantage for 20 seconds. BU pulled its goaltender for a 6-on-3 advantage and after the first penalty expired, Watchorn took a pass from freshman Jill Cardella and buried her third goal of the season and second in as many games.
Just 10 seconds later, though, Bram got the goal back for the Lakers, stuffing in her team-leading 29th goal of the season.
Mercyhurst held a 33-18 advantage in shots on goal. The Lakers went 2-for-5 on the power play, while BU was 1-for-6 on extra-man opportunities. Senior Melissa Haber stopped 29 shots between the pipes for BU.