Sunday, February 21, 2010
HABER, TERRIERS SHUT OUT BLACK BEARS, 2-0
Senior Melissa Haber earns shutout with 24 saves for BU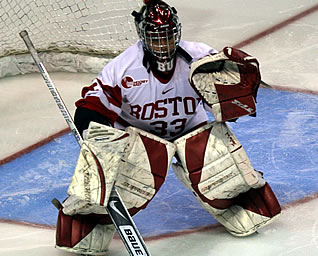 Melissa Haber made 24 saves for the Terriers
BOSTON - In her final regular-season game at Walter Brown Arena, senior goaltender Melissa Haber stopped all 24 shots she faced to backstop the Boston University women's ice hockey team to a 2-0 win over Maine in the regular-season finale on Sunday afternoon. The Terriers end the regular season at 14-8-12 overall, setting a program record for fewest losses in a season, and 10-6-5 with three shootout wins in Hockey East play. BU must wait on tonight's game between New Hampshire and Boston College to find out when and where it will open the playoffs.
Junior forward Lauren Cherewyk and senior forward Jonnie Bloemers provided the two goals for the Terriers. Haber's third shutout of the season was her program-record eighth career shutout.
Both teams got extended five-on-three opportunities in the first period, but neither side could break through. The Black Bears had a two-man advantage for 1:13 with seniors Melissa Tetreau and Melissa Anderson both in the box and the Terriers had 1:52 of five-on-three action when freshman Brittany Dougherty and sophomore Dawn Sullivan were whistled for checking within 10 seconds of each other.
None of the goals were scored in five-on-five action as both teams became well-acquainted with the penalty box with 53 total penalty minutes issued in the game. BU got on the board in four-on-four action midway through the second period when Cherewyk converted a feed from Anderson for her 11th goal of the season. Anderson broke her own single-season record with her 36th point of the season.
BU added an insurance goal on the power-play 6:42 into the third. Bloemers snuck a shot inside the near post for her fourth goal of the season with feeds coming from Tetreau and junior Jillian Kirchner.
The Terriers ended up 1-for-8 on the power play, while Maine was 0-for-7. Sophomore Candice Currier made 29 saves in defeat as the Black Bears concluded their season with a 6-20-5 record, going 3-15-3 with a shootout win in Hockey East.
BU carries a three-game winning streak and seven-game unbeaten streak into the Hockey East playoffs. The Terriers will either host Boston College in the opening round of the tournament or earn a first-round bye.