Saturday, February 20, 2010
BOSTON UNIVERSITY NOTCHES 3-1 WIN AGAINST MAINE
Melissa Anderson registers two goals and assist for the Terriers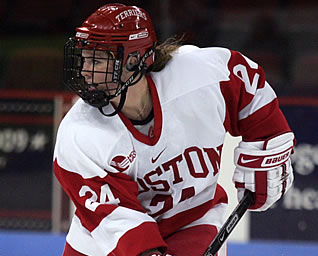 Melissa Anderson had two goals and an assist for BU
BOSTON - Senior forward Melissa Anderson scored a pair of goals and added an assist to power the Boston University women's ice hockey team to a 3-1 win over Maine on Saturday afternoon at Walter Brown Arena. The win boosts the Terriers to 13-8-12 this season and 9-6-5 with three shootout wins in Hockey East, putting BU in a three-way tie for third place riding a five-game unbeaten streak entering the final day of the regular season.
After conceding a goal in the first period, Anderson struck twice in the second to claim the lead for the Terriers, then assisted on junior forward Lauren Cherewyk's insurance tally in the third. Cherewyk finished the game with a goal and an assist and freshman forward Jill Cardella assisted on both of Anderson's goals. Freshman goalkeeper Alissa Fromkin made 20 saves to earn the win and is now unbeaten in her last four appearances.
The Black Bears broke through late in the first period with their only goal of the game. Senior forward Abby Barton gained control of the puck in her defensive zone and went end-to-end to net her fifth goal of the season, with senior Taryn Peacock providing the assist. Freshman Brittany Ott made 37 saves in defeat for Maine, as the Black Bears fell to 6-19-5 overall and 3-14-3 with one shootout win in league play.
BU took advantage of a power-play opportunity to pull even 13:18 into the second period when Anderson punched in the puck from close range after sophomore Tara Watchorn sent the puck in from the point. Anderson put the Terriers in the lead with her fourth game-winning goal of the season, scoring on a backhand shot late in the middle stanza.
The Terriers' power-play unit struck again midway through the third, when Cherewyk blasted in her 10th goal of the season with assists coming from Anderson and sophomore Carly Warren. BU was 2-for-5 on the power play, while Maine was held 0-for-4.
The results around the league set up a frantic finish to the regular season on the final day of competition tomorrow. Providence clinched the regular-season title with its win over Vermont today, but the Terriers are tied with New Hampshire and Northeastern for third place, one point behind Connecticut. The league's second-place finisher gets a first-round bye, while third and fourth host opening-round playoff games.
The Terriers face Maine again on Sunday (Feb. 21) at 3 p.m. to wrap up the regular season. BU's seniors will be honored before the start of their final regular-season game at Walter Brown Arena.