GARCIA, CONNECTICUT SHUT OUT BOSTON UNIVERSITY, 2-0
Sophomore Alexandra Garcia earns fourth shutout of season for Huskies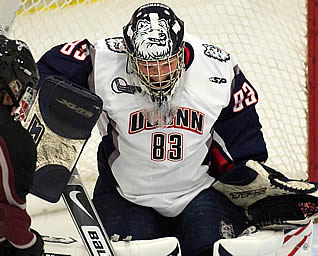 Alexandra Garcia made 24 saves for the Huskies
BOSTON - A two goal lead at the start of the third period proved to be too much to come back from as the Boston University women's ice hockey team fell to the No. 8 Connecticut Huskies 2-0, Friday night at Walter Brown Arena. The loss puts the Terriers at 10-8-9 on the season and 6-6-4-2 in conference play while the Huskies are now undefeated in their last nine games and boast records of 7-3-4-1 in conference action and 16-6-5 on the year.
Leading 2-0 after two periods, the Huskies held tight on defense, holding BU to just nine shots in the period to preserve the 2-0 shutout. Connecticut goalie Alexandra Garcia recorded her fourth shutout of the season. BU Goalie Melissa Haber recorded 21 saves in the loss.
The Huskies got out to an early lead thanks to a goal at the 11:15 mark of the first. Monique Weber collected passes from Cristin Allen and Rebecca Hewett in front of the BU net and bested Haber for a 1-0 lead midway through the first. A penalty on Connecticut with just over two minutes to play in the first period gave the Terriers a handful of good looks, but a BU penalty a minute later negated the man-up opportunity and the horn sounded with UConn up 1-0.
Connecticut extended its lead to 2-0 in the first minute of the middle period, utilizing a power-play opportunity that spilled over from the opening stanza. Lisa Stathopulos wrestled a puck away from a BU defender and slid it to Maude Blain, whose blueline blast was screened enough to elude Haber for UConn's second score just 54 seconds in. The teams exchanged penalties once again midway through the second, but neither team was able to take advantage of the man-up play.
The Terriers' next game will be against local rival Northeastern in the first round of the 2010 Beanpot Tournament. Gametime is slated for 5 p.m. at Harvard University's Bright Hockey Center.