Saturday, December 5, 2009
CONNECTICUT TAKES SHOOTOUT WIN AT BOSTON UNIVERSITY
Huskies grab extra league point after teams skate to 1-1 tie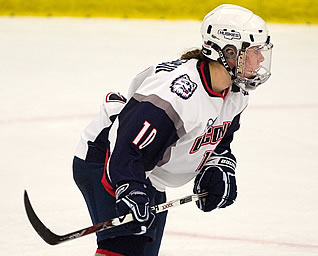 Amy Hollstein scored the decisive shootout goal
BOSTON - The No. 10 Boston University women's ice hockey team finished up its 2009 schedule with a 1-1 (1-0) shootout loss to the Connecticut Huskies, Saturday afternoon at Walter Brown Arena. The result puts the Terriers at 7-6-7 overall and 4-4-3-2 in conference action while Connecticut moves to 8-5-4 overall and 2-3-4-1 in league play.
The Terriers took the first-period lead for the second game in a row, grabbing the 1-0 advantage on Laurel Koller goal. Freshman Shannon Mahoney got her first assist of her career on the play. BU maintained its pressure throughout the first stanza, outshooting the Huskies 10-5 and earning a power-play opportunity at the end of the period that carried into the second frame.
Jenelle Kohanchuk nearly put the Terriers up by two in the third period, but her short-range effort was called off to preserve the 1-0 score. The Huskies responded to the near-miss with the equalizer on the next trip down the ice as Monique Weber potted a goal 12:16 into the third off assists from Sami Evelyn and Kelly Horan.
The Terriers managed four shots in the overtime period to the Huskies' two, but neither team was able to break through in the extra frame, forcing a shootout.
After a BU miss to start the deciding shootout, Connecticut senior Amy Hollstein bested BU goalie Melissa Haber to secure the extra point in the 1-0 shootout win for the Huskies.
The Terriers will take the rest of December off and resume their schedule with a showdown against Yale at Walter Brown Arena on Friday, Jan. 8 at 5 p.m.