Saturday, October 24, 2009
BOSTON UNIVERSITY FALLS TO CLARKSON, 7-2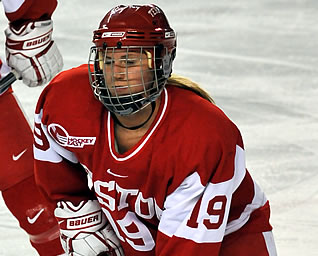 Jenelle Kohanchuk scored a goal for the Terriers
POTSDAM, N.Y. - The No. 9 Boston University women's ice hockey team suffered its first loss of the season, dropping a 7-2 decision to No. 4 Clarkson on Saturday in a non-conference matchup. With the loss, BU's record slips to 2-1-4 on the year while the Golden Knights improve to 6-1-1 in their 2009-10 campaign.
The Terriers were unable to generate much offensively through the first period, but the Golden Knights provided enough for both teams, netting three goals to take a 3-0 lead into the first break. Melissa Waldie capitalized on a power-play just 2:43 into the game and transfer Dominique Thibault netted two more before the 10-minute mark to give the hosts a sizeable advantage heading into the second.
BU got on the board after another Clarkson score early in the second as Jenelle Kohanchuk converted a pass from Tara Watchorn for her team-leading sixth goal of the season. Kohanchuk has now recorded a point in three straight games. Waldie struck again just eight seconds after BU's first score and Carlee Eusepi and Tegan Schroeder potted goals to give the Golden Knights a 7-1 lead at the second break.
Jillian Kirchner took a Lauren Cherewyk pass and got one back for BU just 1:16 into the final period, but it proved to be too little to late as the guests fell by a 7-2 final.
The Terriers play the final game of their five-game road stretch next Saturday at 3 p.m., as they travel to Providence, R.I. to take on the Friars in their first conference showdown of the season.