VERMONT SHUT OUT BY BROWN, 2-0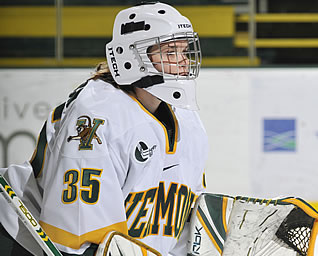 Kristen Olychuck made 16 saves for Vermont
PROVIDENCE, R.I. - The University of Vermont women's hockey dropped a 2-0 decision to the Brown Bears on Sunday afternoon in Meehan Auditorium.
The Catamounts continued to pepper their opponent's goalie, outshooting the Bears 34-18 on Sunday, a day after Vermont outshot Yale 20-18.
However the Bears were able to take advantage of their only power play of the game as Laurie Jolin scored with less than three minutes remaining in the second period gave the Bears a 1-0 lead. Jolin was able to take a pass from Nicole Brown and Paige Pyett to beat UVM senior goalie Kristen Olychuck (Kelowna, British Columbia) for her second goal of the year.
Sasha Van Muyen scored an empty-net goal with 30 seconds remaining in the game to give the Bears the 2-0 victory.
While Brown capitalized on its only power play of the game, the Catamounts went 0-for-5 on their power play opportunities.
Olychuck made 16 saves in the losing effort for Vermont while Brown's Katie Jamieson made 34 to preserve the win.
The loss drops Vermont to 5-12-1 on the year and 1-8-1 in Hockey East while Brown improves to 2-10-3 on the season and 0-7-3 in ECAC Hockey.
Vermont returns to action this weekend when it travels to Wayne State for a two-game weekend series. Friday's game is scheduled to start at 7 p.m. while Saturday is slated for 2 p.m.