BINNING LEADS CONNECTICUT PAST BROWN, 8-1
Michelle Binning posts two goals and two assists for Huskies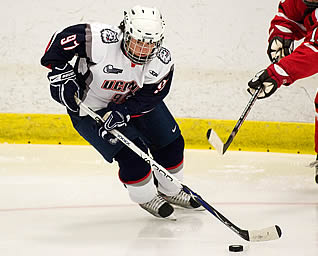 Michelle Binning had two goals and two assists for UConn
PROVIDENCE, R.I. - The University of Connecticut women's ice hockey team's offense erupted at Brown on Friday night with an 8-1 victory at Meehan Auditorium. Freshman Elisabeth Stathopulos (Toronto, Ont.) and senior Michelle Binning (Oshawa, Ont.) each scored twice while three others netted a goal against the Bears in the Huskies overhwhelming victory. The Huskies' record moves to 3-3-1 overall while the loss marks a bitter start to Brown's season with a 0-1-0 record.
For the first time since a Jan. 3 game against Vermont, the Huskies boasted a pair of power play goals in the game with sophomore Sami Evelyn (Nepean, Ont.) and Stathopulos scoring back-to-back power play goals at Brown.
Stathopulos scored the second of her career with the second goal of the night with assists for Binning and junior Jennifer Chaisson (Cumberland, Ont.). Her goal was the lone mark of the first period before junior Jessica Lutz (Rockville, Md.) scored early in the second, spurring six UConn goals in the second period. Lutz's goal was assisted by Binning and Chaisson less than four minutes into the second stanza.
Senior Amy Hollstein (Pembroke, Mass.) scored a shorthanded goal for the first such goal of her career just past the five-minute mark of the second period. Sophomore Rebecca Hewett (Oak Bluff, Man.) and Lutz garnered the assists on the 3-0 UConn goal.
Evelyn followed Binning's first of the game with a power-play goal less than a minute later for the Huskies to jump ahead 5-0. It was the first goal for Evelyn of the season and was the first of two power-play goals on the night.
Stathopulos netted the second at 12:49 to help the Huskies to a 2-for-4 power-play conversion on the night. Hewett had her third assist of the game on the Stathopulos' second goal of the night while Evelyn also had a helper.
The Huskies led 7-0 after a goal from sophomore Monique Weber (Rogers, Minn.) with less than five minutes to play in the second stanza. Weber's second goal of the season was unassisted.
Junior Brittany Murphy (Tewksbury, Mass.) and Lutz fed the puck to Binning who netted her second of the night at 14:24 of the third period for the 8-0 lead.
Moments later Sasha VanMuyen was able to get one past senior netminder Jennie Bellonio (Guilford, Conn.) who finished the game with 26 saves, including 11 in the third period. It was her second win of the season while Brown goalkeeper Katie Jamieson (1-0-0) made 14 saves before being pulled in the second for with Joy Joung taking over. Joung finished the game with 12 saves.
The Huskies host Union on Saturday at 7 p.m. for their second-consecutive game against an ECAC opponent.