NORTHEASTERN EDGES BEMIDJI STATE, 2-1
Lindsay Berman nets game-winner for Huskies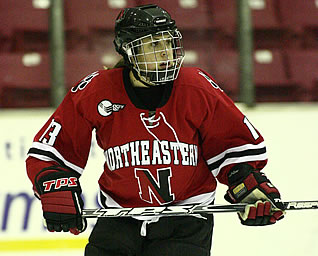 Lindsay Berman scored late to win the game for NU
BOSTON, Mass. - Senior Lindsay Berman's goal with 2:30 remaining in the third period lifted the Northeastern Huskies (4-1-1) to a 2-1 victory over Bemidji State (1-5-1) at Matthews Arena on Friday night. Junior Kristi Kehoe added a goal and an assist, and sophomore netminder Florence Schelling stopped 28 shots.
Berman, who was the hero in the Huskies' last win over Boston College, gave the team a huge boost again when she poked home a rebound in the final minutes. Bemidji State goaltender Zuzana Tomcikova (21 saves) made the initial stop on freshman Brittany Esposito on an odd man rush, but the puck trickled through her legs and Berman stuffed it into the empty net. Kehoe was credited with the secondary helper after making a nifty backhand pass to Esposito.
Kehoe was also responsible for the Huskies' first goal, when she roofed a rebound into the left corner of the net at 14:42 of the first period. Freshman Casey Pickett took the initial shot in close after receiving a pass from the wing by Berman.
The Beavers scored their only goal at 14:30 of the second. Erin Cody knocked the puck away from a Husky defender and made a beautiful deke around Schelling, wristing the puck high glove side for the equalizer.
Both goaltenders made big stops late in the second to preserve the 1-1 tie. Schelling robbed Emily Erickson on a breakaway with a stick save, before Tomcikova returned the favor with a stop on a Pickett breakaway.
Berman's late tally was her fourth goal of the season and her third game-winner. The Odenton, Md. native leads the team with eight points through six games.
The Huskies and Beavers conclude their two-game series tomorrow at UMass Boston's Clark Athletic Center at 3 p.m.