Saturday, January 9, 2010
BOSTON COLLEGE SKATES TO 3-3 TIE AGAINST YALE
Ashley Motherwell posts goal and assist for Eagles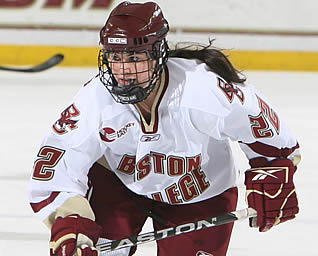 Mary Restuccia had a goal for the Eagles
CHESTNUT HILL, Mass. - The Boston College women's hockey team notched a 3-3 tie against ECAC foe Yale on Saturday afternoon at Kelley Rink.
The Eagles are now to 5-7-8 on the season while the Bulldogs moved to 4-10-3.
The first period was a battle between the goaltenders as junior Genny Ladiges of Yale and freshman Corinne Boyles of the Eagles stopped shot after shot to keep the teams locked in a draw. BC finally grabbed the edge in the contest after freshman Ashley Motherwell wristed a low shot past Ladiges' right pad with only five seconds remaining in the opening period.
The second period continued at the same pace as the first, with the teams battling back and forth. Yale managed to take a 2-1 lead over the Eagles by tallying two quick scores in under a minute, midway through the frame.
Sophomore Mary Restuccia turned the tables the Bulldogs to tie the score at two, only 35-seconds after Yale's two goals, before the visitors struck again 37-seconds later. Boston College rebounded exactly as it had earlier as freshman Kristina Brown's backhand flipped over the Yale netminder's glove and into the back of the net, just 42-seconds after Yale's third goal.
In total, the two teams combined for five goals in just under three minutes during the second period. Neither team could muster up any goals in the third period nor the five-minute overtime, and the game ended at 3-3.
Corinne Boyles stopped 28 of Yale's 31 shots on the day and the Bulldogs recorded a 31-29 advantage in shots on net for the match.
The Eagles will return to Hockey East action on Monday night, when they will travel to face Northeastern at 7:00 p.m.